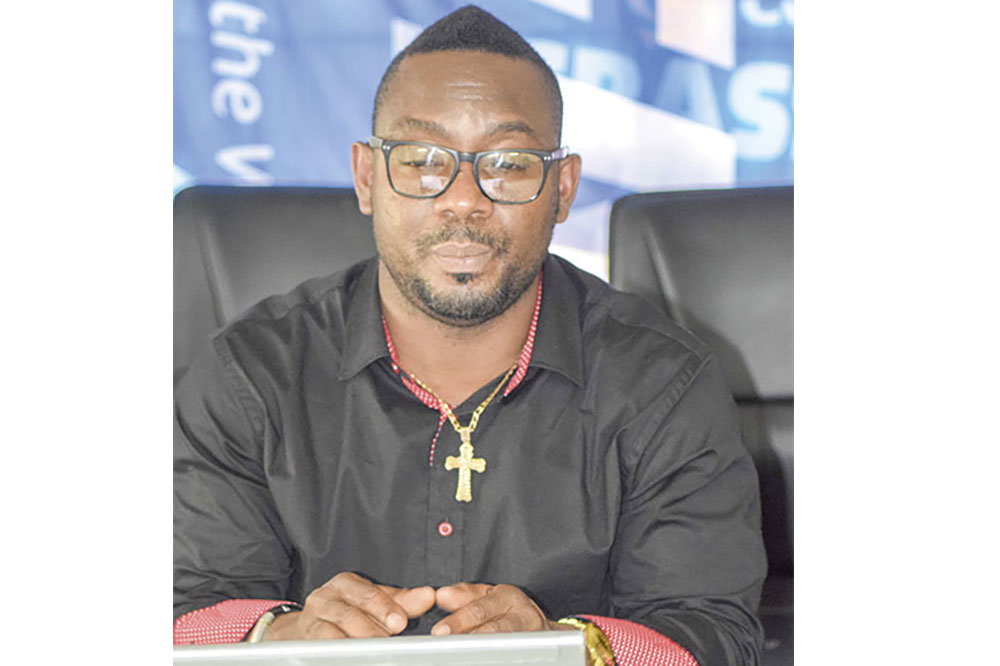 Acting SVGFF president reiterates innocence
ACTING PRESIDENT of the St Vincent and the Grenadines Football Federation (SVGFF) Marvin Fraser, has stated categorically that he never ordered any additional World Cup tickets for the 2014 finals in Brazil.
"I, Marvin Fraser, never ever made any request for any tickets at all from FIFA," Fraser told SEARCHLIGHT in an interview yesterday.
Fraser's declaration of innocence, is in response to an email from FIFA Member Associations Ticketing, addressed to Fraser's email account "[email protected]" and carbon-copied to "[email protected] vincysurf.com" and "[email protected]".
The email subjected: "2014 FIFA World Cup Brazil™ Additional Football Community Tickets Invoice", detailed the payment procedure to be followed for the additional tickets.
But making reference to the email, Fraser declared, "It is an instructive email, telling you what is necessary if you are looking for more tickets… What is baffling to me, is that normally FIFA does not address anybody by "Dear Mr Marvin Fraser" … FIFA doesn't do that".
"When you read the body of the email; the body of the email could have been to anybody… I believe that the email was sent to the federation, it was copied to me as the treasurer… It was copied, but, but the Dear Mr Marvin Fraser has been put there for a reason," Fraser stated.
"If FIFA is responding to something you ask, they will have that part of the email attached," Fraser related.
Fraser, though, noted that the mention of his name was from a procedural standpoint.
"If FIFA is responding in anyway to request for tickets, they would copy the treasurer, they would copy the president, the SVG Football, so everybody would be in the loop as to what is happening," the acting SVGFF head reasoned.
"When you are applying for World Cup tickets, you have to sign up forms, you have to sign in what is called TMS (Ticketing Managing System)… You have to put in a username and password… When you (are) requesting tickets, the person who is authorised to use the password, that person has to log in to get any kind of information," Fraser told SEARCHLIGHT.
In a further attempt to clear his name in the matter, Fraser said that the purchase of 200 tickets by the SVGFF in 2014, was done using the SVGFF's credit card, which at the time was in his name.
"You cannot just send an email requesting tickets … You have to log into a system, that system requires that you either put in credit card information…The credit card for the federation (St Vincent and the Grenadines Football Federation) at the time was issued in the treasurer's name, and I was the treasurer," Fraser added. He reiterated to SEARCHLIGHT yesterday that he and other executive members at the time, "had no intimate knowledge of what transpired… People are using whatever commotion that is happening right now to see how they could pull people down".
Fraser said that if persons want "to dig" past emails, he could in turn publish others, which would have distanced himself from the sale of the tickets.
"Emails where I am telling people that this person who is requesting us to buy tickets, probably is a blackmailer," Fraser reported.
Fraser said he had asked fellow executive members at the time to seek guidance from the Caribbean Football Union's secretariat on the matter of the World Cup tickets.
The acting SVGFF head, who has been the second vice-president of the SVGFF, was elevated to the post of acting president, following a two-year ban and US $40 000 fine on Venold Coombs.
On Tuesday, July 3, according to the Adjudicatory Chamber of the Independent Ethics Committee, Coombs was found guilty of having violated articles 21 which deals with Bribery and corruption, 19 – Conflicts of interest and 15 (Loyalty) of the FIFA Code of Ethics".
Coombs was being investigated since June 9, 2016, in respect of the resale of tickets for the 2014 FIFA World Cup Brazil™.
"The Investigatory Chamber analysed allegations that Coombs had sold tickets purchased by the SVGFF and by him personally, in his capacity as a FIFA standing committee member, for a profiteering mark-up", a release from FIFA.com stated July 3 .