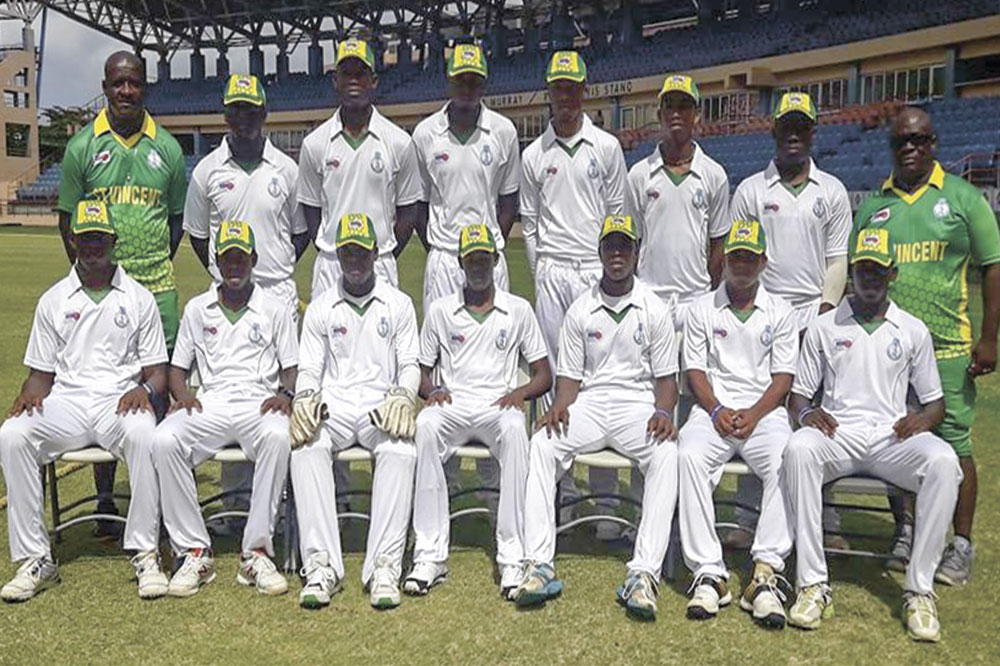 SVG U-19 cricketers dethroned in Windwards tournament
St Vincent and the Grenadines (SVG) failed to make it four-in-a-row in the WINLOTT Inc. Windward Islands Cricket Board of Control Under-19 tournament, which ended last Sunday in Grenada.
After successive go it alone titles in 2015 and 2016, and sharing the honours with St Lucia last year, the Vincentians were condemned this time to last place.
St Lucia and Grenada were declared joint champions, with Dominica, third.
An outright defeat by seven wickets to St Lucia on Sunday at the Grenada National Cricket Stadium meant that SVG was winless in their outing.
The woes of SVG in their final match began when they were bowled out for 63 on Saturday. Tijourn Pope made 16.
Bowling for St Lucia, Simeon Gerson took 7 for 33.
In reply, St Lucia posted 149. Mateo Boulonge acored 35 and Wayne Edward, 27.
Rayan Williams was the pick of the SVG bowling, taking 4 for 33 and Aleon Caesar had 4 for 60.
Jahiel Walters then stroked 72, in which he struck 14 fours, and Reynolson Hillocks, 26, as SVG, batting a second time, made 185.
Johnnel Eugene picked off 4 for 46 and Keygan Arnold, 3 for 27.
Set 100 to win, St Lucia reached the target in 18.3 overs, for the loss three wickets. The chase was led by Kimani Melius' 44 and Jard Goodman's 27.
Reynolson Hillocks grabbed all three wickets that fell for 32 runs.
This was the culmination of the Vincentian's sojourn, as they had lost on first innings to both Grenada and Dominica.
In their opening fixture versus the host at the Grenada National Stadium, Grenada made 163., with Jade Matthews scoring 55. Rayan Williams had 5 for 37 and Aleon Caesar, 4 for 36.
SVG was dismissed for 148. Jaheil Walters made 41.
Batting a second time, Grenada declared at 171 for 8. Teddy Bishop scored 44, while Rayan Williams took 4 for 44, to end with match figures of 9 for 81.
Set 187 to win SVG was 83 for 7 when the match ended.
Facing Dominica at Progress Park, SVG won the toss and decided to bat, and made 220 all out from 67.4 overs. Tijourn Pope scored 85, OJay Matthews, 63, and Romando Mars, 23.
Bowling for Dominica, Micah Joseph captured 3 for 20, Leon St Jean, 2 for 15, and Lincoln Durand, 2 for 24.
Jahseon Alexander then smashed 114 and Tahj Tanvernier, 69.  Rayan Williams was SVG's most successful bowler, taking 3 for 61.
And, batting a second time, SVG was 91 for 3. Jaheil Walters scored 41 and Ojay Matthews, 38 not out. Delaney Alexander had taken 2 for 17.
In the other results, Grenada also took first innings over both Dominica and St Lucia.
Playing at Progress Park, Grenada made 171 and 243 for 5. Teddy Bishop scored 114 not out and Johann Jeremiah, 88. Dominica had scored 145.
The outcome was similar when the Grenadians played St Lucia at the National Stadium.
Scores: Grenada – 228 and 171 for 3, St Lucia, 212.
And, at Progress Park, Dominica and St Lucia also drew their match.
Scores: Dominica – 198 and 145 for 9. St Lucia, 173.