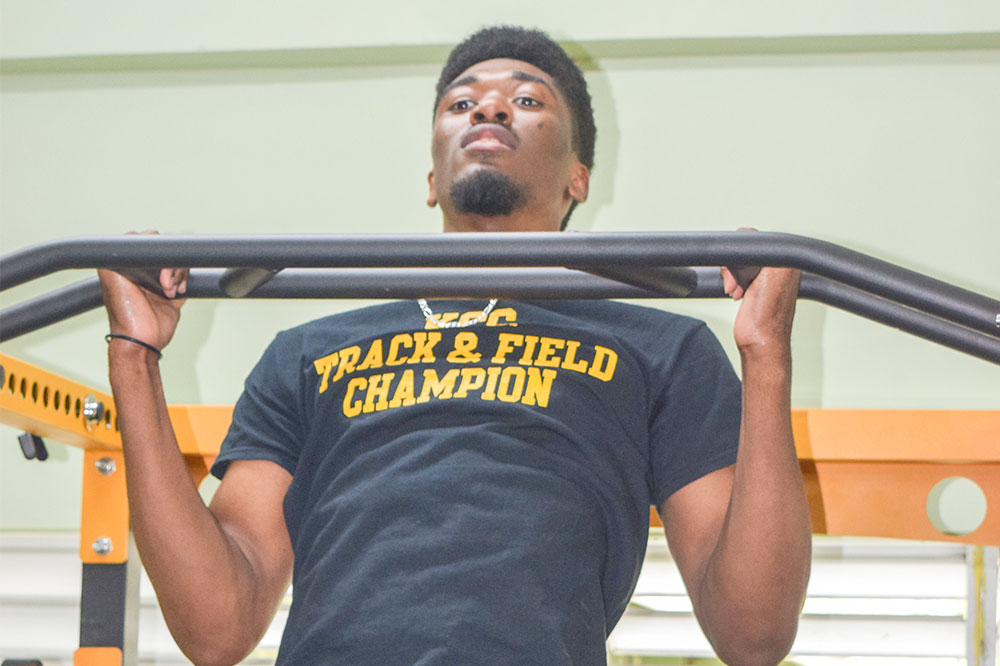 TSSS gets addition of Harry's Gym
"This gym has been established so that all of the students of the Thomas Saunders Secondary School may have access to first class equipment, and so go on to be first class sportsmen and women…. And this gym has been named in memory of my late husband Harry Blundred OBE, and in honour and recognition of Mr "Fuzzy" Harry's outstanding services to sport in St Vincent and the Grenadines."
Those were the words of Sarah Blundred, a naturalised Vincentian, as she spoke at the opening ceremony of Harry's Gym, which is the newest addition to the facilities of the Thomas Saunders Secondary School (TSSS).
Blundred was the main contributor in procuring the gym equipment out of the United Kingdom.
Through her input, funds generated by the school's sports department, a donation from Coreas Inc. and manpower from BRAGSA, Harry's Gym has become a reality.
Harry's Gym is equipped with kettle bells of weights, ranging from 4 Kg to 12 Kg, along with four sets of 150Kg weights, four benches, four power cages and storage racks.
Principal of the school John Renton lauded the efforts of Blundred, referring to her as "the wind beneath the wings of our athletic programme".
"Mrs Blundred, we thank you for all you have done… We appreciate the support, both financial and personal, that you have given our athletics programme… You are a true friend of the Thomas Saunders Secondary School and we look forward to continue our journey on our path to greater success in athletics, in partnership with you," Renton declared.
Blundred has been associated with the institution having been a major sponsor of the Thomas Saunders Secondary School's participation in the Penn Relays for the past five years, and has invested in the education of four former students at the Kingsborough Community College in Brooklyn, New York.
Also addressing last Friday's ceremony were Minister of Health, Wellness and the Environment Luke Browne, former prime minister of St Vincent and the Grenadines – James Mitchell, and Godfrey Harry, the man whose vision saw the installation of the gym at the TSSS.
Although humbled by his contribution in making the gym a reality, Harry said the gym is another of the "firsts", for the school, which is in keeping with a tag line the school uses at the annual Inter-Secondary Schools Athletics Championships; that of being the trendsetters.
Harry noted that the gym is mainly for the students and staff of the institution.