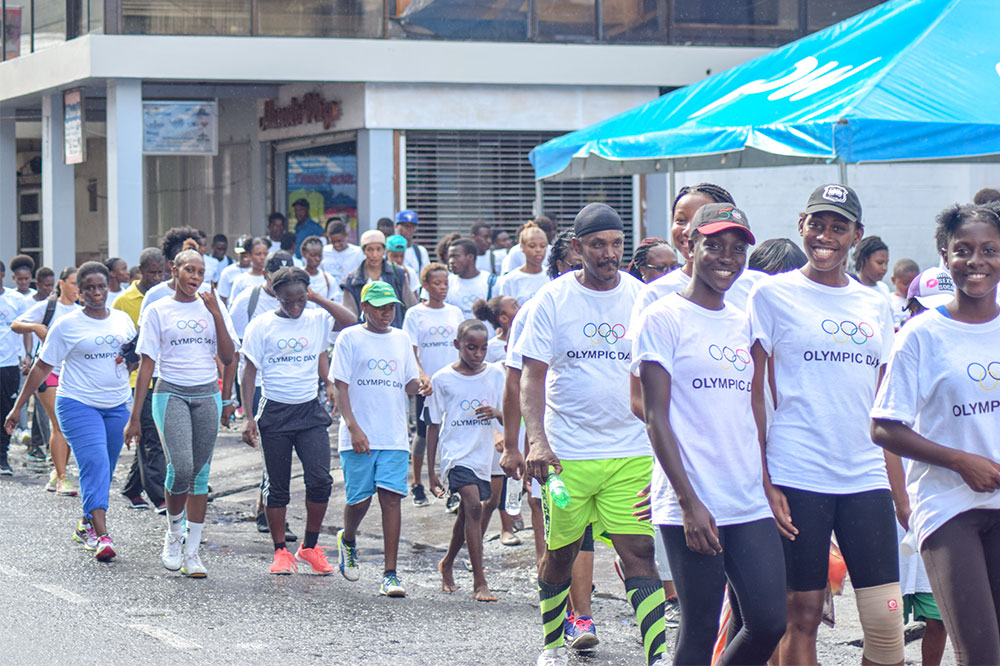 Traditional games take over SVGOC's Olympic Day observation
A focus on traditional games was St Vincent and the Grenadines Olympic Committee's (SVGOC) way of commemoration of Olympic Day, last Saturday.
Hosted mainly at the Grammar School Playing Field, but utilising the facilities of the Girls' High School and the CW Prescod Primary, the activities for the day engaged the many participants from national sports associations, sporting units, as well as schools.
Among many of the traditional games which were part of the day's activities, were Marbles, Hop Scotch, Rounders, Morale, Skipping, Obstacle Shuttle, Dog and Bone, Simon Says and Hula Hoop.  Meanwhile, the attendees were given lessons in Basketball, Boxing, Cycling, Road Tennis, Rowing, Rugby, Table Tennis, Taekwondo and Volleyball.
Following the activities on the field and on the courts, participants then took to the streets of capital, Kingstown, for the Olympic Day Run/Walk.  And, despite the inclement conditions, the chants were not doused, as the participants enjoyed the journey.
Last Saturday's events were a culmination of the 2018 observation of Olympic Week.  Olympic week, which began with a church service at the Arnos Vale Covenant Assembly, also had media releases from the SVGOC and the International Olympic Committee (IOC).