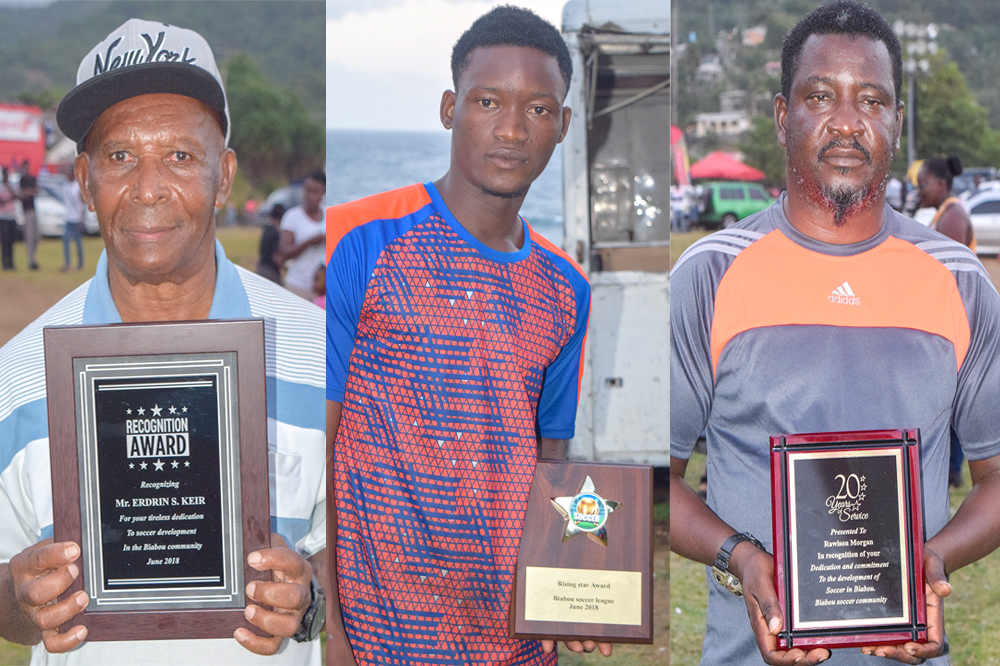 Special awards handed out at Biabou football league's closing
Organizers of the 2018 Hairoun Beer Biabou football league last Sunday, made some special presentations during its closing ceremony, held at the Biabou Playing Field.
Among the recipients was Erdrin Keir, who has unselfishly assisted in the development of football in the Biabou community.
Keir is known to have contributed immensely to the annual Biabou football league, as well as to the Biabou teams which participate in the league.
Also recognized was long-standing administrator and match official Rawlson Morgan.
A servant of the Biabou community for many years in various sporting disciplines, organisers of the football league recognized Morgan for having given more than 20 years.
Morgan's contribution to Biabou football has been in the area of officiating and administration.
Joining Keir and Morgan, in being specially recognized were active footballers Romario Dennie and Anthony Hazell.
Dennie and Hazell were presented with the Rising Stars awards, as they are seen as promising footballers.
Dennie is a member of the league champions Greiggs FC, and was one of the potent strikers in the league.
Meanwhile, Hazell is a goalkeeper with the Pride and Joy outfit.
And, for his astute manner in securing the property of the league, namely the balls, Sehon Joslyn, too, received a plague for his input.