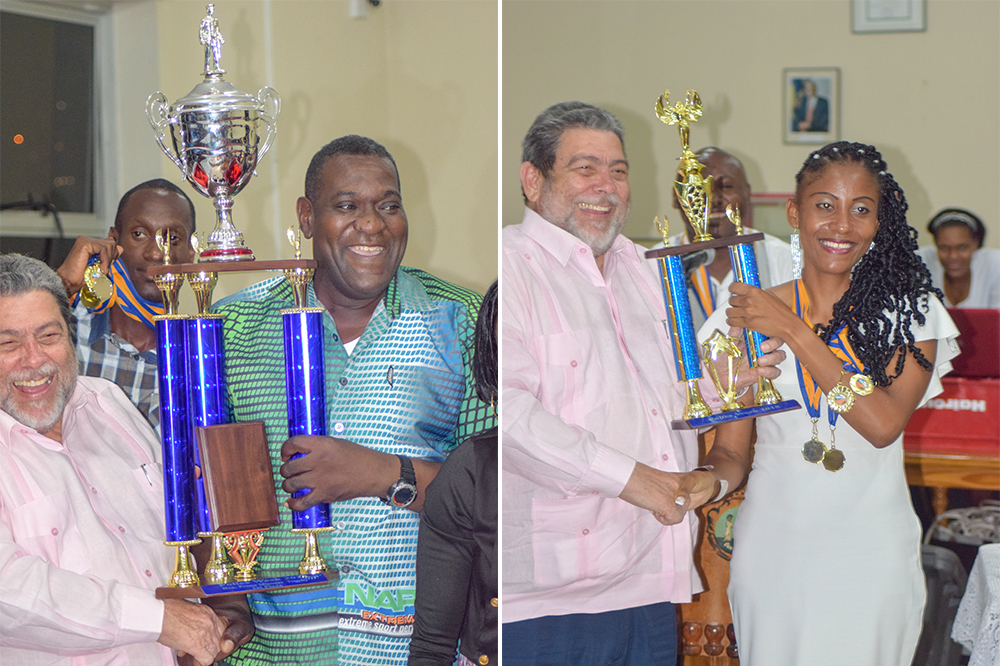 Coast Guard tops in Police Week's sporting activities
The St Vincent and the Grenadines Coast Guard emerged overall champions of the sporting activities during the 2018 Royal St Vincent and the Grenadines (RSVG) Police Week, which concluded last Saturday.
Coast Guard was ahead on the points tally, posting 358 points, to capture the Prime Minister's trophy as they topped the football, 5K Road Relay and the Athletics championships.
To the extra good, Coast Guard also secured the march past.
The lone title to evade the Coast Guard, was the cricket competition, which was won by the Eastern Division.
Docking in second overall was Administration, thus gaining the Minister of Sports' trophy.
Administration, which compiled a total of 314 points, was second in the Athletics championships and the football competition.
And, on 266 points was Operations, to finish third. A second place in the cricket competition, as well as a third places in the 5k road relay and the Athletics championships, aided Operations' cause.
Central Division and Western Division were the other competing units.
Individually, AB Shantel Compton of the Coast Guard, was the most outstanding female athlete in the Athletics championships, as she was crowned Victrix Ludorum, with Nigel Small of Operations, the Victor Ludorum.
The hosting of the 2018 Police Week of activities marked a return after a ten-year lapse.
Apart from the sporting events, the week's activities also included church services, a debating competition, a lecture, along with several community service undertakings.
Among the latter were the refurbishing and mural painting of the community bath at Redemption Sharpes, the erecting of football goal posts at the Ottley Hall Playing Field, donation of over 10 food baskets to the needy in different police districts, along with free haircuts and eyebrow shaving, free breakfast at Central Police Station, and beach clean-ups on the windward and leeward sides of the country, in partnership with the CWSA.
Last Saturday evening saw a prize–giving ceremony and entertainment package taking place at the Police Canteen, and Sunday, the handing over of the community bath project at Redemption Sharpes, and a football match between a Sharpes XI and a Commissioner of Police XI, at the Sharpes Playing Field.