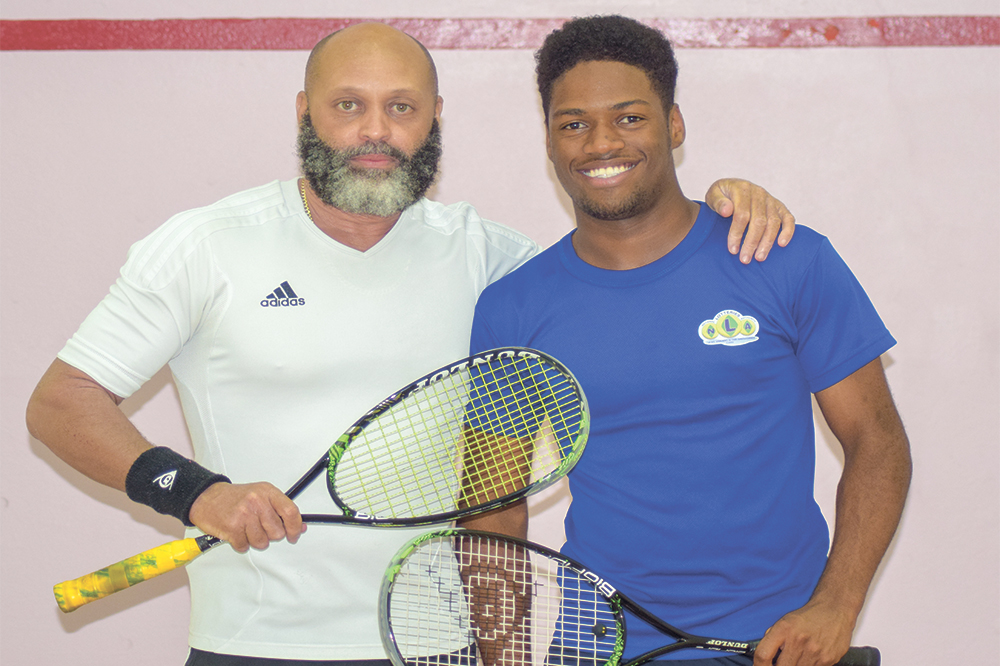 Father and son combination wins national Squash titles
When James defeated Paul Cyrus 11-4, 11-4, 11-9, on Saturday at the National Squash Centre at Paul's Avenue in Kingstown, he did not only retain the veteran's title, but his 11th successive national title.James Bentick, who is also the president of the St Vincent and the Grenadines Squash Association and the SVG national coach, has under his belt, OECS titles in the open and veterans and over, as well as five Caribbean titles in the 40-and-over category.
Joining the senior Bentick on Saturday, was his son Kai Bentick, who claimed the open mixed title, when he stopped Jules Snagg, 11-7, 7-11, 11-1, 15-13."I am proud of Kai for achieving this title…He would be the youngest to do so in the modern era," the senior Bentick told SEARCHLIGHT.
The junior Bentick, who is currently sitting his CSEC examinations, will travel to New York in the USA in June, ahead of the Caribbean Area Squash Association junior tournament, (Junior CASA) set for Jamaica, July 7-15.Meanwhile, the minor places attained at last Saturday's final day of the national senior squash tournament, went to Telbert Samuel, Omari Wilson and Mikal Quashie.
Samuel won by default over Collin Alexander, to clinch the third place in the veteran's category.Similarly, Wilson gained the third place in the mixed, as Jason Doyle did not show for their match-up. And, Quashie beat Glasgow 9-11, 11-6, 11-6, 11-7, to place fifth in the mixed open.
The national Squash Centre will be buzzing again this month, when St Vincent and the Grenadines again host the senior OECS Squash tournament from May 17-20.