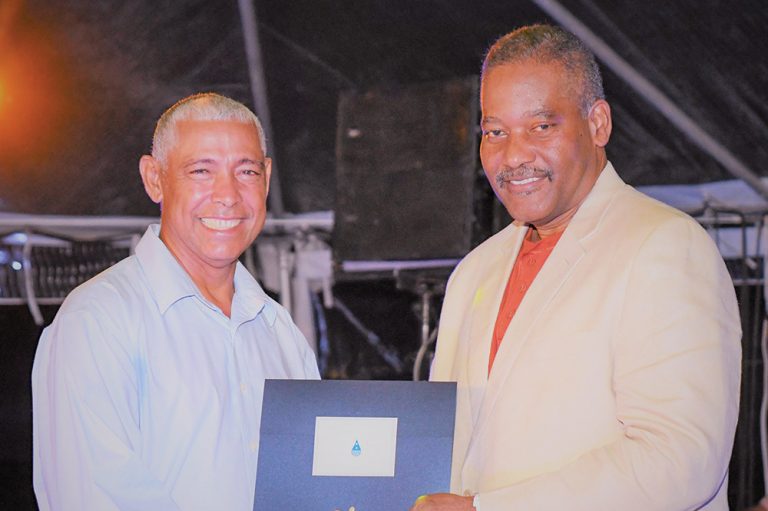 Special Features
November 18, 2022
Garth Saunders exits the CWSA – Special Feature on his tenure
After 39 years of public service, including the last 18 years and 5 months as the Chief Executive Officer of the CWSA, Garth Saunders has embarked on a new phase and journey in his life and career outside of the CWSA.
The early years
According to Saunders, he began his professional career "on that fateful day of October 19, 1983 when the region was suddenly plunged into shock and mourning with the assassination of Prime Minister Maurice Bishop". He recalls the sadness of the event and the concerns about possible repercussions at one of our close neighbours.
After two years as a design engineer at the Ministry of Works he was seconded by VINLEC for the next three years as resident engineer on the $84 million Cumberland Hydroelectric Project. Even as he retires, he remains extremely privileged to have worked with international engineering consultants Shawinigan Engineering, who were later acquired by Lavalin of Canada, and to have personally designed all the pipeline support structures from "deep in the forests at Convent to Cumberland on the coast".
Saunders recalls that in retrospect, his involvement at the Cumberland hydro project, with its many dams, pipelines and river crossings, had "fortuitously" prepared him for the next phase of his career at the CWSA. He recalls joining the CWSA in October of 1988, upon invitation from then General Manager Daniel Cummings, and there he served as its water engineer for the ensuing five years, including being asked to act as General Manager on several occasions.
Following this first stint at the CWSA, Saunders was then requested to rejoin the Civil Service in 1993 to take up the role of Deputy Chief Engineer at the Ministry of Works. He however recalls that that appointment "strangely never materialized" and after three years, he opted out of the Civil Service after 13 years of continuous service, having completed training in project management and securing a master's in business administration with a distinction in finance.
For the next eight years he served as a senior manager within the local Goddard Group of Companies, specifically Coreas Hazells Inc. where he gained new insight and perspectives, having been introduced to the world of business and import distribution by experienced professionals both locally and regionally.
CWSA Phase II
During his 18-year tenure as CEO of the CWSA, Saunders recounts several rewarding and challenging periods and took time out to pay tribute to the competent committed and hard working employees at the CWSA.
Saunders noted with a smile that some leaders are prone to accepting all the credit for successful outcomes, sometimes forgetting that quite a lot of their success was achieved on the backs of hardworking employees. The outgoing CEO noted that this was not the case at the CWSA and that he always recognized the outstanding work of his colleagues.
He also noted that he would not have been as effective a leader and manager without the competent efficient and loyal support of his administrative assistant Susette May, who served with him for his entire 18-year tenure. He was also happy to note that, at the CWSA, talented and committed employees continue to be attracted, mentored and motivated to continue delivering at consistently high standards even under the regular stressful situations.
Public Service
During his employment years in the private sector Saunders' contribution to public service however never waned. He served as a member of the National Sports Council between 1993 and 2002, becoming Chairman of the Board in 2001 and also as Chairman of the Board of the National Stadium Project for five years, overseeing the site development and final design of what is today the Diamond Athletics Track.
At this point, Saunders reflected on his professional development and how much participation in school sports had contributed to it. He believes that were he not a national athlete, the opportunity for a fully funded university education via an athletic scholarship would not have easily arisen. He took time out to credit current track and field coach Mike "Mercy" Ollivierre for being instrumental in unearthing this opportunity and for continuing to do so for many current young athletes.
Saunders recalls first serving as a member of SVG Athletic Association in 1977, along with his seniors and colleagues such as Ches Lawrence, Earle Anderson, Cecily Norris, Ducks Llewelyn, Killy Williams and Julian and Aubrey Burgin. He also proudly noted being vice President of the Lennox Adams led Athletic Association when SVG finally gained Olympic status ahead of the 1988 Seoul Olympics. Saunders also achieved IAAF certification as a level-one athletics coach.
In 2002, following a series of technical articles on airport development, Saunders was appointed to an airport development oversight committee and in 2006 became a director of the new International Airport Development Company (IADC) followed by his appointment as first Chairman of the Board of the Argyle International Airport during the challenging five-year startup and operational years.
Challenges
Among the many challenges, Saunders recollected that between 2010 and 2022, the CWSA and indeed the country was subjected to repeated setbacks due to naturally occurring climatic events.
These events, ranging from droughts, floods, hurricanes and volcanic eruptions, all resulted in water supply disruptions and significant system damage. He however happily noted that on each and every occasion, the CWSA's teams combined to cushion the negative effect of water outages and to effect system restoration in record times.
Saunders was also full of praise for his Government's policy of full support for employees and for looking after the poor and marginalized section of the customer base. He noted that from Cims Martin to Girlyn Miguel, the CWSA has been led and supported by Boards who take governance to a different level with strict adherence to established policies controls and standards and who have continued the age-old employee culture of loyalty, honesty and integrity.
Saunders concluded with a message for the new CEO and his management team as they embark on their new journey together. He encouraged a commitment to consistently examining systems and processes at the CWSA and for every individual to make it their business to offer suggestions that would lead to change and improvements.
That approach he noted, would guarantee that the Government and Board policy of continuous improvements would continue to be achieved.

Notable Achievements
The outgoing CEO was also pleased to report that the CWSA continues to offer the lowest water rates in the Caribbean, even when the solid waste charge is added.
He also noted that water rates have not increased in over 11 years, while the Authority continued to report annual surpluses with the exception of 2021.
During that year, the combined effects of Covid and the volcanic eruption resulted in lost sales and increased expenses due to system rehabilitation, and customer cash support and giveaways.
Thankfully as of October 2022, the CWSA balance sheet has recovered and the CWSA will once again post a surplus in 2022.
The outgoing CEO also listed other notable achievements including consistently improving many areas of the customer service offering led by customer service manager Phillip Dalrymple and his team.
On the engineering and technical fronts, Saunders referred to many resilience building projects including increasing water storage by over 85 per cent (from 3.2 million gallons in 2004 to 6 million gallons in 2022), investigating groundwater potential and embarking on desalination options in the Grenadines.
He also proudly noted significant additions to the engineering department, led by Engineering manager Brian DaSilva, including the establishment of a water resources unit, a Geographic Information System and a SCADA remote monitoring and operating system.
Additionally, there was the addition of an internal audit department originally headed by current Finance Manager, Gaylene Matthias and especially important in this modern era, the establishment of a PR and Marketing department headed by Joan Ryan, in order to establish and maintain close relationships and communication with the customer base.
Saunders was also happy to note that the Solid Waste operations had improved by leaps and bounds during his tenure and especially so under the leadership of the new CEO, Winsbert Quow. This he noted was evidenced by improved collection efficiencies, and increased resource recovery initiatives that included the recovery of metals and plastics, all aimed at extending the life of the landfills.