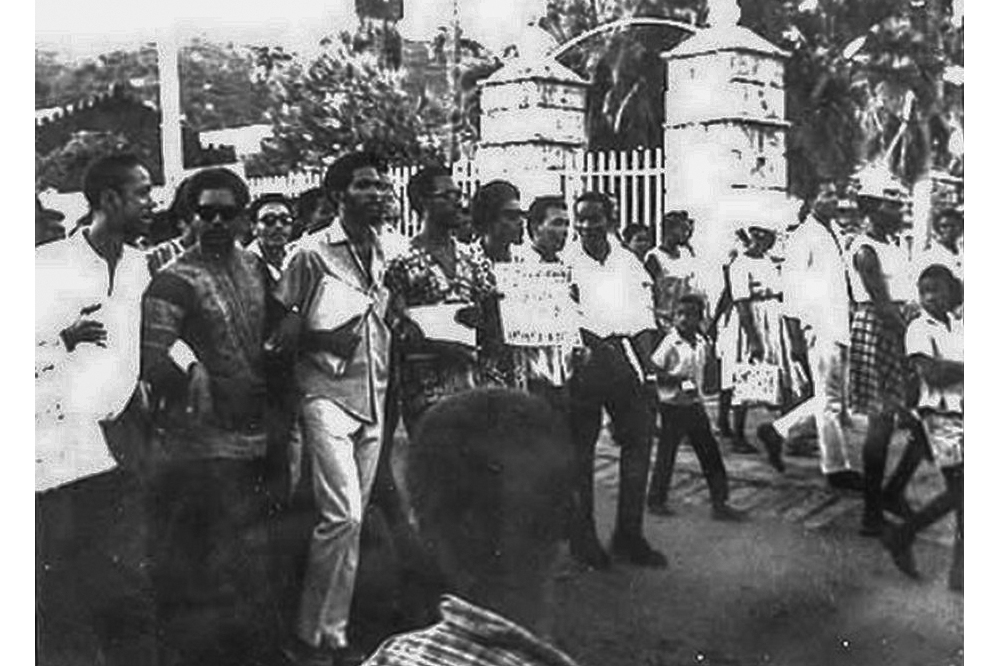 Special Features
May 7, 2021
Parnel R Campbell: Outstanding servant of the people
By: Dr. The Hon. Ralph E. Gonsalves
INTRODUCTION
Parnel R Campbell, who died on April 19, 2021, a few months shy of his 76th birthday, was my friend, my colleague and competitor in politics, a brother in the law, and a sage adviser. Our relationship spanned over 62 years. I first met Parnel when I entered the St Vincent Grammar School in January 1959; he had enrolled at our premier boys' school a year or two earlier. Over the years, I followed with profound admiration the development of this extraordinary individual who was possessed of abundant blessings as: Scholar teacher, calypsonian, political and cultural activist, political organiser and strategist, leader of men and women, parliamentarian, lawyer, Attorney General, constitutional and legal reformer, public educator on the law, Christian gentleman of the Spiritual Baptist faith, servant of the people, wise elder, philanthropist, father, husband, and family man. Imperfect like all of us, he was a pearl who enriched immensely our nation, our Caribbean civilisation, our human family. St Vincent and the Grenadines has lost a treasure in Parnel; his passing is an inestimable loss, made more grievous on account of our current perils of COVID-19, the volcanic eruptions, the looming hurricane season and the travails that accompany, and are consequential to, them. We shall miss his counsel in the days and months ahead. We are grateful for his magnificent contributions to nation-building. And we thank God for "gifting" him to us for over 75 years!
FROM BARROUALLIE TO UNIVERSITY AND BACK (CHILDHOOD TO 1979)
Parnel was born in Barrouallie in humble circumstances. He often told me that to his grandmother he owed a tremendous debt of gratitude for instilling in him a core of tried and tested values grounded in sturdy rural experiences and Christian upbringing. These values shaped his disciplined outlook on life, living, and production. He was taught the verities of hard and smart work, a sound education and training, service to our fellow men and women, a generosity of spirit, freedom and justice, democracy and activism, equality of all before the law and God, and love of country. These elemental virtues remained with Parnel throughout his life. They were the blazing fires within him.
At a young age, he was sent to Rockies to live with his family. He entered the Grammar School as a student of exceptional ability and promise. He was an accomplished all-round student: He excelled at the Cambridge External Examinations (today's equivalent of CSEC and CAPE); he was an enthusiastic cricketer, a champion debater, and a student leader.
Subsequently, he successfully pursued his undergraduate studies in Economics and Politics at a university in Canada; he returned to St Vincent and the Grenadines to serve his people.
In my book entitled The Political Economy of the Labour Movement in St Vincent and the Grenadines (published in 2019), I wrote, in part, of Parnel as follows:
"Campbell, erudite, a formidable intellect, and a prodigious worker, had displayed leadership qualities from 1969 after his return from his university studies in Canada. The St Vincent Labour Party government, had called on his organizational skills to assist with the 'statehood' celebrations in October 1969. He was a dedicated activist in the Educational Forum of the People (EFA) and the Democratic Freedom Movement (DFM). In 1970, he entered the Law Faculty at the University of the West Indies as a student. He excelled at his legal studies and was awarded a post-graduate scholarship to pursue his doctoral studies in Law at Cambridge University in the United Kingdom. He successfully pursued his professional exams in England and was called to the Bar at Gray's Inn in November 1978. While working on his Ph.D, he faced a choice: complete his Ph.D or return home to join the United People's Movement (UPM) in its build up to the general elections. He chose the latter course and returned to St. Vincent in early September 1979."
Parnel never regretted this monumental act of selflessness in service of his people and nation!
POLITICAL ACTIVISM TO ATTORNEY GENERAL AND BEYOND (1969-2001)
The history of Parnel's activism is well-known and easily researched: Leading light in the Democratic Freedom Movement and People's Democratic Movement; one of the leaders of the United People's Movement in the 1979 general elections; leading member and subsequently Chairman of the New Democratic Party; a successful candidate in the by-election in Central Kingstown in 1987 and thereafter in the 1989 and 1994 general elections; Attorney General from 1987 until 1995 when he resigned from the NDP government but remained a card-carrying member of that party, though increasingly distant from it, particularly as the 21st century unfolded and progressed. He was a formidable Parliamentarian.
When Parnel demitted the Office of Attorney-General, he was, up to that point, the longest-serving holder of that office since independence. As Attorney-General he spearheaded a commendable reform and codification of the laws in St Vincent and the Grenadines, particularly in the areas of criminal law and procedure, certain areas of civil law and procedure, and family law. It was under his watch that the Family Court was established.
Parnel, and to a lesser extent Stewart Nanton, were the organisational backbone of the NDP. To Parnel is due immense credit, under James Mitchell's strong leadership, for the NDP's electoral victories of 1989 and 1994. After Nanton's death and Parnel's resignation from the government, the NDP's organizational strength fell apart, bit-by-bit.
NATIONAL AND COMMUNITY ACTIVISM (2001 – 2021)
After the fall of the NDP government in 2001, and his growing estrangement from the Party, Parnel became a tireless, non-partisan national and community activist until his death. Among his sterling contributions in this arena were: "The Law and You" programme on SVG TV; Chairmanship of the Constitutional Review Commission; and his role as Chancellor of the major Spiritual Baptist entity in St. Vincent and the Grenadines. His activism in all these areas was outstanding; absolutely phenomenal!
PARNEL THE LAWYER
Parnel was an outstanding lawyer who was admitted to the rank of Queen's Counsel. He served his clients, the Law Courts, and justice exceedingly well. He did a huge amount of "pro bono" (free) legal work for the poor, the working people, and the marginalised.
Parnel would have made an outstanding judge if he had chosen to pursue that career path. He also would have been a superb university professor in law, had he chosen that option. He was always helpful to young lawyers. He was ever so courteous; never mean-spirited in his professional endeavours.
PARNEL AND RALPH
PR Campbell and I shared the political platforms of the UPM in 1979 and of the Constitutional Review Process between 2003 and 2009. He was absolutely brilliant on these platforms; an outstanding public speaker who made complex issues understandable to the uninitiated.
Between 1987 and 1998 we were political combatants on different political sides. Each of us said highly critical things of each other but we never exhibited malice or hatred towards each other. Indeed, we remained friends; we never allowed the vanity of small differences to consume us. This friendship strengthened in the years subsequent to his resignation from the NDP government.
PR and I knew each other at school; we were often in touch with each other during the heady years of the late 1960s and 1970s. I recall that in 1977 when I was employed as a Lecturer at the University of the West Indies, I had cause to be in the United Kingdom for three months over the summer, he came from Cambridge to see me in London; he stayed the night at my one-bedroom apartment; he slept in my bed; I slept on the couch. In September 1981, he returned to me a favour of sorts: He lent me one of his pants to play a cricket match for "Lawyers" at South Rivers; afterwards, I washed it and returned it to him; he directed me to keep it; I kept it.
Over the years, especially since my Prime Ministerial years, he often tendered advice to me — sometimes solicited, sometimes not. I shall miss his wise counsel. PR Campbell, like Sir Vincent Beache and Hudson Tannis, would have been a good Prime Minister. Fate decided otherwise.
I am of the considered view that in the aftermath of the clean-sweep NDP victory at the polls in 1989 when James Mitchell rejected Parnel's legal advice on the issue of the appointment of two "opposition" senators, had PR resigned then as a matter of principle he would have galvanised all opposition forces under his leadership. He would have become Prime Minister before the end of the 20th century. And I would have been pleased to serve under him. I told him this on several occasions. But "what if" history is oft-times for idle academicians, soothsayers, and long-serving Prime Ministers.
On behalf of the government and people of St. Vincent and the Grenadines, on my own behalf and that of my family, I extend sincerest condolences to his widow, Julie, his children, family and friends. May Parnel rest in peace!