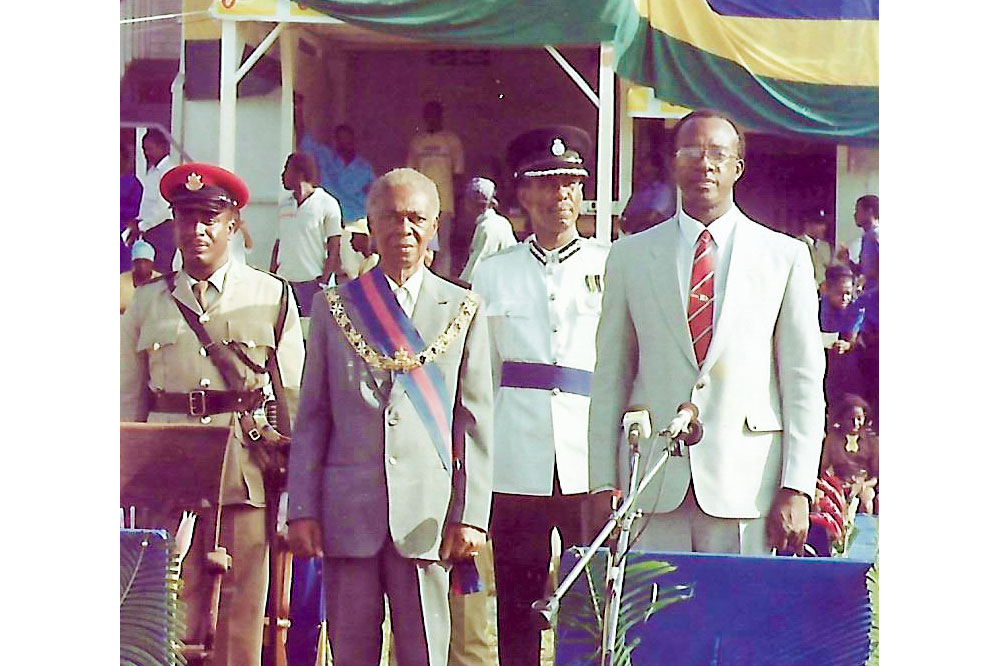 Special Features
May 7, 2021
Parnel 'PR' Campbell—A Tribute from the New Democratic Party
Mr Parnel Campbell, QC affectionately called 'PR' was a long-standing senior member of the legal profession in St Vincent and the Grenadines and the OECS. He was well-known as a lawyer and politician throughout the Caribbean.
PR Campbell was a true nation builder. He contributed to national development in many ways and will be remembered as a man whose life exemplified a commitment to public service. He did so as a politician, as a political commentator and as a vocal champion of the rule law and of public order.
He worked tirelessly over several decades to promote justice and for the recognition and elevation of the dignity for ordinary people. Many benefited individually and collectively from his legal advice, free and otherwise. Through his public service "The Law and You" legal educational program that he hosted for many years on SVG TV, he was the nation's law teacher. Ordinary people, who had not had any legal training could be heard expounding with legal principles or asserting rights they had learned about from his program with confidence because, as they often put it, "Campbell say so".
PR Campbell was a stalwart of our party, the New Democratic Party. He served long and in various roles. He was an outstanding Chairman of the party, who used his renowned skill as an organizer to organize many activities for the party.
His career in Parliament began in the early days of the NDP government. He was appointed Senator in 1985 for the NDP government led by Sir James Mitchell. In 1987, he was elected to Parliament having won the by-election in East Kingstown which followed the sudden death of the incumbent NDP representative, Mr Eddie Griffith. In the General Elections of 1989, he decided to run for Central Kingstown, one of the new constituencies that was formed for the General Elections that year. He won and represented that constituency until 1998. He was an effective and attentive representative for the people.
PR Campbell served this nation as an exceptional Attorney General, from 1985 to 1987 when he was Senator and from 1987 to 1995, as an elected Member of Parliament. As Attorney General, he played a critical role in the preparation of the Revised Laws of St. Vincent and the Grenadines and in changing laws that discriminated against women in our country.
He held other Ministerial and notable positions in the NDP government. He was Deputy Prime Minister, Deputy Speaker of the House of Assembly and Minister of Justice, information and Culture. As Minister of Information, he ensured that all religious denominations were given equal opportunity to broadcast live their worship services on NBC radio (including the Spiritual Baptist of which he was a member). Later, out of politics but still very much in public service, he served as Chairman of the Constitutional Review Commission.
He will be truly missed. We extend our deepest condolences to his family. May God comfort them and may he receive our friend into his arms.