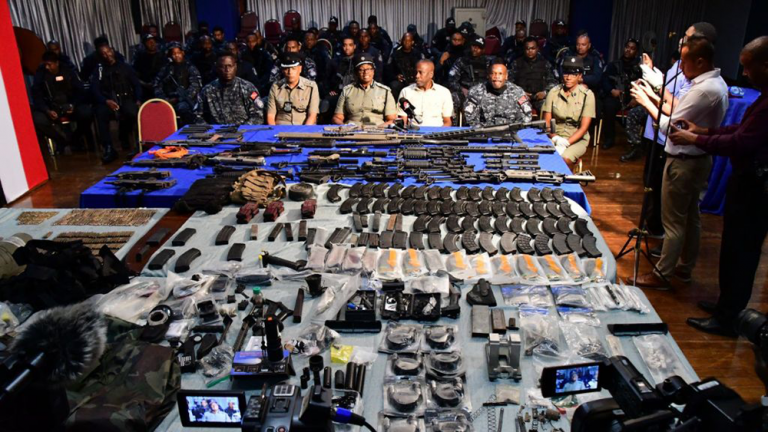 Regional / World
October 12, 2023
TRINIDAD: Police make largest firearm seizure in country's history
Police made two major inroads against narco-trafficking and illegal gun trafficking in recent police exercises, including what Police Commissioner Erla Christopher said is the country's largest seizure of illegal firearms in the country's history.
According to the Trinidad and Tobago Police Service, on Wednesday, officers carried out an intelligence-led exercise in Santa Cruz where a "huge cache of high-powered, sophisticated weapons" was discovered and seized.
The TTPS said the haul consisted of the "deadliest of weapons" consisting of 13 firearms including two AK-47 rifles, two Draco rifles, one M-16 rifle, two UZI Sub-machine guns, one Beretta Sub-machine gun, one Ruger 30 calibre rifle and one Ruger Precision 50 calibre rifle.
The seizure also included 1152 rounds of assorted ammunition, namely 45 mm, 50 calibre, 12-gauge, 7.62 mm, 9 mm and 6.5 calibre armour piercing ammunition.
The TTPs said several major firearm component parts were also seized, including 10 Laser pointers, 23 Rifle Stocks, 53 Trigger Guards, 13 Selectors, 15 Triggers, four Rear Sights and four Buffers.
Police Commissioner Erla Christopher said the incident may be connected to a recent shooting in which a prison officer, the driver for the Deputy Commissioner of Prisons, was injured.
"Our intelligence suggests that the seizures are linked to the suspects in the brazen attack earlier today on the life of the Deputy Commissioner of Prisons. Attacks against public officials will not be tolerated and the TTPS will certainly not be intimidated by any threats against law enforcement officers and law-abiding citizens.
"We serve notice on persons who seem prepared to disrupt law and order in this country, that we are closing in on them. The question is not "IF" but "WHEN" they will be detained. I want to advise persons wanting to challenge law enforcement that now is a good time to cease and desist. You will not succeed. We are coming for you."
"This seizure represents a major breakthrough in our battle against the proliferation of illegal firearms and ammunitions, and we anticipate that it will significantly impact the commission of violent crimes involving the use of illegal weapons."
Commissioner Christopher concluded saying:
"I commend all the officers involved in this seizure for another demonstration of precision policing and operational excellence in keeping with our Strategic Plan. This, and other exercises that officers continue to conduct throughout the country, help to increase the public's trust and confidence that the TTPS is doing everything possible to ensure their safety and security. We encourage you to keep partnering with the Police. If you see something, say something. We can do this together. We have every confidence that we will bring an end to the criminal enterprise plaguing our beloved country."
Source: Loop News TT