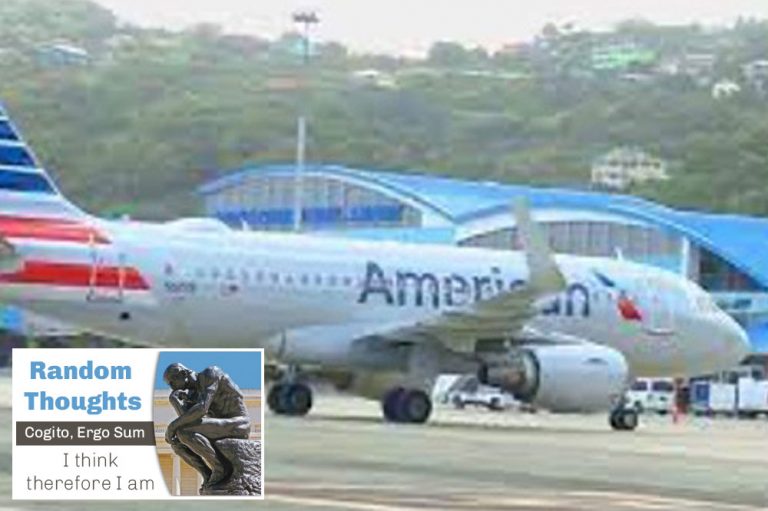 Random Thoughts
September 9, 2022
A boost for SVG's Tourism
Two big announcements were made more or less at the same time a fortnight ago. They had to do with the return of Air Canada on scheduled twice weekly flights to Argyle and the bigger one, the decision by American Airlines to make daily calls, commencing in March next year.
Daily scheduled Flights by American Airlines
I am confident that the increase in American Airlines' weekly flights will serve to grow interest in St Vincent and the Grenadines by potential visitors. A daily schedule is significantly better than a twice weekly schedule, for it allows the potential traveller great flexibility in planning his itinerary. If the midweek flight is full, he doesn't have to worry about looking for alternative routes or cancelling his trip, inbound or outbound.
Announcement should have been magnified more
I was surprised that an announcement of this magnitude was initially made only in the form of a press release, circulated among local media houses and subsequently shared by individuals across various digital platforms.
I would like to believe that our progressive Minister of Tourism was involved in the negotiations, as well as the Executive Director of the SVG Tourism Authority, its chairman, and by its broader implications, the Minister of Finance and his Director-General.
If there is a downside to the development as to why the announcement was a bit under the radar, the movers and shakers could tell us. If there is a bone of contention in the cost to St Vincent for every empty seat below a particular load factor, let us know.
I don't have any knowledge of the terms of the agreement but I have confidence in Ministers James and Gonsalves, Director General Jackson as well as in the prime negotiator, Glen Beache.
St Vincent and the Grenadines is potentially a marquis destination
St Vincent and the Grenadines, as a unitary tourism destination, has a lot to offer. In fact, in terms of its natural endowment, our multi-island state can offer the greatest appeal among the south-eastern Caribbean islands to North American visitors.
For several decades past, we didn't have a clear tourism vision nor purpose. We didn't believe in our potential despite what we have seen around us daily. In fact, some of our tourism projects in the past have been what I may call "butt-up"- i.e. not planned, not expected, but occasioned by serendipity only.
Among the Best
None of our neighbouring islands have what we have. Simply put, we have St Vincent, and we have the Grenadines. Somehow, we don't seem to promote St Vincent AND the Grenadines. Former prime minister Sir James Mitchell had rejected the Department of Tourism's tagline at the time, 'The Natural Place to be'. The Prime Minister didn't buy it, so it was dropped.
Together, we have great beaches. We have wonderful vistas. We have waterfalls, atolls in the form of the Tobago cays, great hiking trails, places of historic value and interest, great waters for sailing, decent dive sites. God gave us these attributes.
We can do much better with developing our facilities and events designed for leisure. Apart from sun, sand and seawater, there are appeals to be found in theatres for listening to local musicians and dramatists, museums for the creative arts, historic and other parks, good local gastronomy etc. We can't depend on God for these.
We are on the right path
We have made our location more strategic and accessible, by building the Argyle International Airport. We are now engaged in the construction of hotels and villas so as to build room stock. We are working with the airlines to get people here directly. Let us give them more reasons for coming here. And while we are at it, let us rethink our messaging and how we reach our target markets.
We are doing well. But we are still quite some distance away from the finish line.