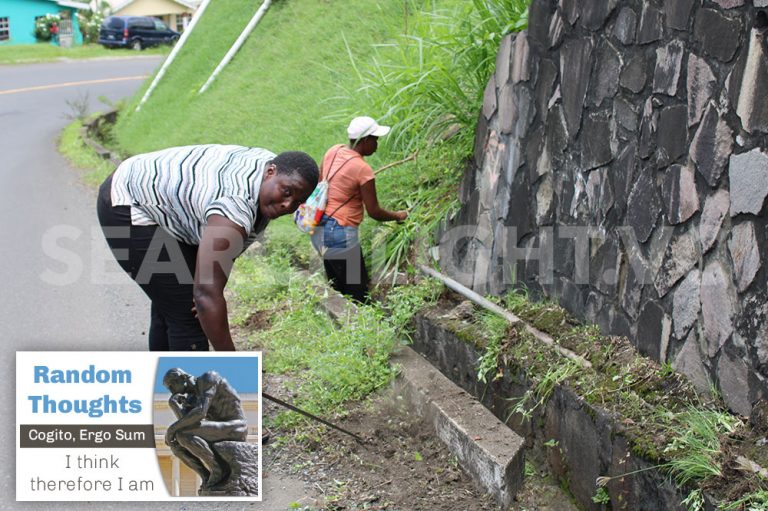 Random Thoughts
August 19, 2022
Subsistence Living and the Roadside Cleaning Teams
Last week, I spoke to the issue of our relatively high cost of living and its impact on us, the sufferers. At the time, I did not realise that the price of vehicle gas had increased to such an historic level – $18.16 / g. Further, the price of electricity at the time of most recent billing, has climbed to near $1.30 per kwh!
I can still buy bread and butter, but the reality is, it is tough out there. The country is bound and gagged by the huge import bill, about which we seem momentarily helpless to do anything.
Subsistence Living
There are people in SVG who now scrape through daily living on one solitary meal, with token crackers and tea as well as some neighborhood fruits added to complete their diet. Those of you who happen to occupy the ranks of the social and economic elite, may not be fully cognizant of the crisis confronting the poor and the unemployed. You may have your issues also, but we all got to reach out and help those less fortunate than ourselves.
Having said all this, it brings me to an issue which may seem antithetical to my utterances above. This has to do with the twice or thrice yearly cleaning of the verges and gutters by teams of people who either live deep in the middle, or on the edge, of subsistence.
I must confess that I would love to see this programme disappear, not because it is not important to whom it touches directly, but because it reflects a perpetuating condition that the country needs to rise above.
I can imagine what the person who disagrees with me is saying – that I don't like poor people. But my position is much to the contrary. The condition of the poor and of those recipients of conditional paternalistic treatment, has always been my concern, if not preoccupation.
At the risk of being drawn and quartered, I stand my ground.
Road Cleaning Programme
As it is presently structured, the road cleaning programme does not reflect well on us as a civilization. Seeing images yesterday of the hapless work teams, gave me a shiver, deep down in my pelvic floor. It made me think of the feudal system of medieval Europe (without the grant of land), of post-slavery plantation capitalism, mixed in with the old colonial- type approach to administration – an unfortunate and surreal collage of times past. What I see may not be what you see, but I do hope that we can both agree, that we should work towards making this practice, as presently constituted, a thing of the past.
If we are only cleaning the verges twice or three times a year, with the grass and muck-filled gutters returning to an overgrown or unhealthy state for the remaining nine months, we have to ask the question, what is the true purpose of the programme?
My dilemma is that the vast majority of those workers need the money. I understand that survival is the order of the day. Another question is, how long are we going to remain in this state and with this practice? Is this the long term plan? Isn't there an alternative to this programme that can help lift the overall dignity of our society and at the same time, take care of these persons who are otherwise struggling to find the money to outfit their children for a new school year, or to help them have a decent Christmas?
If not this programme, then what I am asking the programme-makers whether or not we can actually have the road verges cleaned on a monthly basis, handled by some of the same persons presently involved. This time, we use more appropriate tools and equipment suited for continually and aesthetically pleasing roadsides, conducive to good environmental management. Place them in teams. Train them in team-building and how best to work in a structured ongoing programme, in a self-reliant manner. Of course, pay them appropriately for work properly done.
For those who do not make the cut, let us see how we can more effectively use the learning resource centres for their training in cottage industries, as well as in general life skills. Nothing is wrong if they are paid a small stipend for attending, with the hope that they will eventually move on to better things. This is an unfiltered opinion of mine. The policymakers and the technocrats are well placed to determine the best option going forward. All I humbly ask is that we lift our people up, from the roadside.