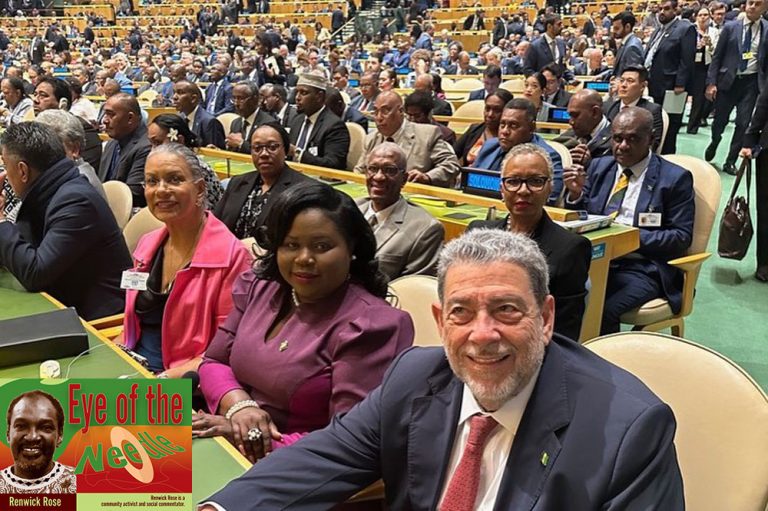 R. Rose - Eye of the Needle
September 29, 2023
SVG busy on the International Stage
This week I am placing focus on international matters of relevance to us. It is certainly a timely choice since for the past month or so, Prime Minister Gonsalves and, to a lesser extent, his Foreign Minister Senator Keisal Peters, have been extremely busy with
many bilateral and multilateral meetings which have bearing on our development prospects.
This is testimony both to the standing of this little country of ours on the international stage and the recognition of its vibrant leadership. On reflection, I can't help, with some irony, reflecting on that most unfortunate statement by our first Prime Minister Robert Milton Cato, that then newly independent SVG was not even a "Third World" country, the concept of "Third World" being popular those days, but that we belonged to a supposed "Fourth World", a place we would call "behind God back" in colloquial terms.
It was a most unfortunate designation but serves to emphasize how far we have come since then, playing leading roles in the Eastern Caribbean, CARICOM and the hemisphere as witnessed by our leadership of CELAC. In turn our country has been reaping rewards which manifest in benefits to our people. Yet there are those who, themselves bankrupt in ideas, attempt to mislead gullible folks by likening our international outreach to "begging". The irony is that some of these people are not ashamed to approach the government for assistance, from the same fruits of that supposed "begging". We should be giving praise where it is due yet not afraid to make constructive criticism.
Our beleaguered Caribbean sister-isle of Cuba continues to be a prominent part of our international outreach and quietly continues to contribute to our social and economic development even though badly affected by crippling and unjust sanctions from the USA. There are Cuban citizens here as part of that cooperation programme. For some unnamed reason over the past three months there has been a series of attacks on Cuban personnel here.
The latest of these occurred last weekend with the burning of a vehicle belonging to one of these Cubans. Naturally, my condemnation of these attacks is unequivocal as is my continued plea to the government and security forces for measures appropriate to the threat. The Prime Minister himself had openly speculated whether the attacks on the Cubans are not part of some international conspiracy. Some had openly scoffed at his speculation but one day after the latest local attack there was an attack on the Cuban Embassy in Washington, using Molotov cocktails. What are we to deduce from these situations?
But back to our foreign policy thrust. Two critical situations currently confront the region. One is the sad and ongoing crisis in Haiti. In spite of several efforts, my reading is that no clear strategy has emerged to handle a situation where there is virtually no government and the law of the modern jungle, complete with dangerous automatic weapons, continues to be enforced. It will call for all our statesmanship to be able to continue contributing to a viable solution there.
Another worrying threat that has come to the fore is the long-time conflict between Venezuela and Guyana over the Essequibo territory, the largest part of Guyana. That territorial dispute is as much a legacy of European colonialism as is the situation in Haiti, the British on the South American mainland and the French in Haiti. But, notwithstanding its origin it is a problem that we must face today. The discovery of huge petroleum deposits in the Essequibo, claimed by Venezuela, and the involvement of the multinational oil corporation EXXON, a US-based firm has added to the dangers.
US opposition to the Venezuelan government is well documented and given Venezuela's claims over Essequibo, we are more and more witnessing uncompromising statements on both sides. Given US history in the hemisphere, it is quite conceivable that the situation can get out of hand and deteriorate into an armed confrontation.
This tiny country, with excellent relations with both protagonists, can at least play a role in helping first to cool tempers and then towards some form of negotiated settlement. The Caribbean region must remain a zone of peace and at all costs the stakes are so high that one never knows what can become of any military confrontation. We cannot afford further foreign military incursions in our region. Our government has demonstrated that it has excellent relations with both Guyana and Venezuela, as it should be. Let us engage in hectic but quiet diplomacy in search of a difficult situation.
It is the only sensible solution in the circumstances, for every day we see more evidence that armed conflict and war only result in losers. The intransigence which brought about the war in Ukraine is now affecting the whole world. At the centre, two European countries are hell bent on destroying each other. Billions and billions of dollars, much needed in the developing world are expended on weapons, with developed countries not honouring their international pledges to developing and fighting climate change. It is more than time to GIVE PEACE A CHANCE!
 Renwick Rose is a community activist and social commentator.