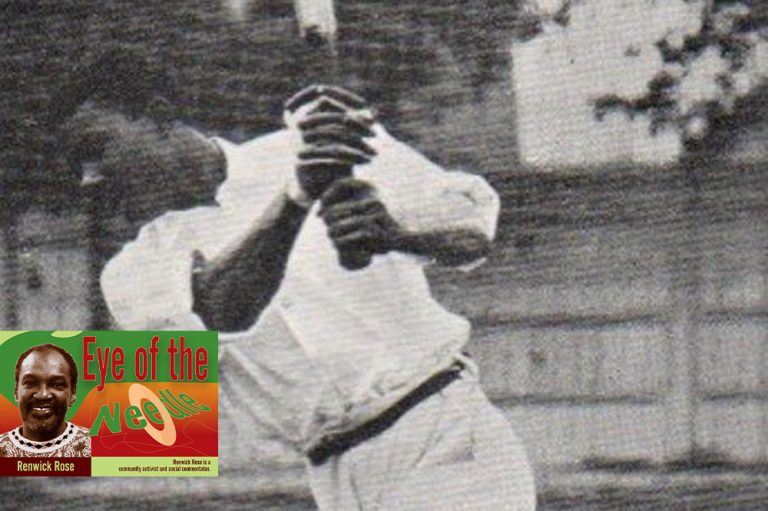 R. Rose - Eye of the Needle
April 21, 2023
Halls Of Fame: Compelling Case (conclusion)
I began this two-part series last week in a continuing push, especially in the fields of sport, culture and social development, that not enough attention is being focused on our history and its connections with our present as well as serving as an inspiration for the future.
Sport was chosen because I found it significant that the BBC could feature the first black Caribbean professional cricketer, Vincentian Charles Ollivierre, of whom we at home know so little. It was the great Marcus Garvey who reminded us that " a people without knowledge of their past history, origin and culture is like a tree without roots".
The Ollivierre story further emphasized the importance of making the historical connections so that our aspiring sportsmen and women could connect with our rich sporting past and know, that in spite of the limitations of size, resources and level of development, our sporting ancestors have made their mark internationally. It is also vital that our local national sporting bodies pay attention to our history and be able to lead in this direction.
Take the issue of statistics for instance. Do we as a people know which sportsperson has represented the nation the most times, say in cricket, netball or football to choose the most popular ones? Who has scored the most runs or taken the most wickets for SVG? Who has scored the most goals in netball or football, both for the national team as well as in national competition?
These could serve as goals (forgive the pun), for our youth to aim at, providing another source of inspiration in their quest for success. Research is necessary and since oft-times the spoken word may be the only source, it is important to ground with those greats of the past still among us. We can also use the information to organize various quizzes and similar competitions to draw in sporting fans. Initiative is sadly lacking in this direction, including among regular sports reporters.
Besides Ollivierre, we have had outstanding cricketers over the years. This column has time and again raised the name Alfie Roberts and even proposed that something be named in his honour as the first cricketer, not just from SVG, not just from the Windwards, but from the entire so-called "small islands" to play Test cricket for the West Indies.
Then there is the legendary fast bowler Frank F.O. Mason and Garnet Brisbane who not only played for SVG and the Windwards in the fifties but after emigrating to Canada, became one of Canada's most outstanding players. He captained Canada in the 1979 ICC World Cup, incidentally, won by the West Indies. For this, and his other contribution to sport in Canada, he was awarded Canada's highest cricketing accolade and inducted into its Hall of Fame. Yes, a Vincentian in Canada's HALL of Fame! I feel so proud, both as a Vincy but also as a former pupil of his when I attended the now defunct Wesley Hall primary School, which we insisted then on calling, "Met-list" School.
Our young people, our active sportspeople, and we all should know of these achievements. Our women need to know that SVG was once a regional powerhouse in netball, competing toe-to-toe with Jamaica and Trinidad and Tobago in regional competitions before their investment in the sport took them beyond us. We have produced some of the region's top netballers, including Peggy Ince, Urel Campbell and the Huggins twins to name a few. The local Netball Association must use the efforts of these and others too numerous to mention here as inspiration for our youth. If we could achieve those heights, without a home for netball, playing at the old "Youth Centre" on the site where cable and Wireless has its local offices, what could we not do with a sense of history and proper investment in human and physical resources?
Recently it was announced that a little-known Vincentian Frankie Lucas had died earlier this month in the UK. Lucas achieved history by becoming the first Vincentian to win a gold medal at the Commonwealth games, becoming middleweight champion at the 1974 games. Racism had denied him a place on the British team, but initiative and enterprise resulted in him representing SVG instead.
Unfortunately, he reportedly fell on hard times later in life as has been the case with many other outstanding stars.
Before the Commonwealth Games, there were the British Empire Games. Vincentians made their mark at that level too, the most prominent being weightlifter George Manners.
Coincidentally born in the same year, 1938, as Garnet Brisbane. A plumber by trade, he, like many others of the time migrated to the UK in 1957 but did not abandon his sport. He went on to represent England in the 1958, 1962, and 1966 games, winning silver medals at the last two Games. He died in 2021, another unsung Vincentian hero.
All this should strengthen the demand for appropriate recognition and honouring of our sporting heroes. I will turn to other fields in later columns hoping to keep the Halls of Fame bell ringing.
Renwick Rose is a community activist and social commentator.