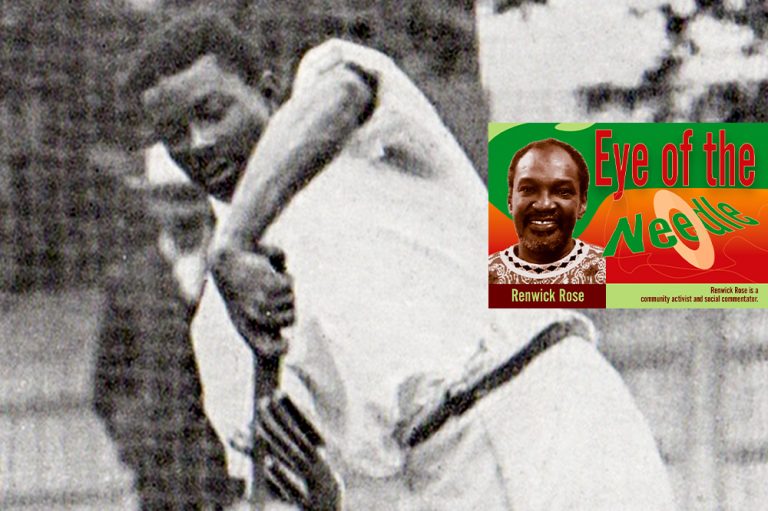 R. Rose - Eye of the Needle
April 14, 2023
Compelling case for Halls of Fame
This columnist has been virtually crying in the wilderness for the institution of national Halls of Fame, particularly in the fields of sport, culture and social life. Though there has been little positive response so far, each month and year developments in respect to local achievers only help to strengthen the case.
In fact, the absence of such institutions helps to provide fertile ground for confusion when we engage in national debate and discussion around such a topic as the official designation of national heroes. Many who engage in such exchanges tend to confuse outstanding national service with automatic hero status. It is in the best interests of all that we be able to make the appropriate distinctions. Before I continue on the topic, let me add my humble appreciation to those already expressed for the outstanding lifelong contribution of our local surgeon Dr Ceil Cyrus, who was buried yesterday. It is a pity that the political authorities here did not appreciate the independence of mind of this surgeon par excellence and chose instead to make him another victim of campaigns of persecution, like many others of his time.
For the purposes of this column, I wish to confine my remarks to the field of sport, utilizing reports in the local and international media over the past week or so, about the achievements of two Vincentian sportsmen, who placed their stamp on the British sporting scene.
BBC Sport on its cricket page this week, features a cricketer from the early 20th century, a certain Charles Ollivierre, whom it describes in glowing terms as being, "The West Indian who was a 'one-of-a kind' pioneer" at English county club Derbyshire. For those of us who are not aware, this Charles Ollivierre hailed from tiny SVG, non-existent on any global sporting map of the early 20th century. Yet he overcame racial and small-island prejudice to become the first Vincentian to be selected on the West Indies cricket team which made its first tour of England 123 years ago.
It would be almost impossible in these times to imagine what an accomplishment that was, and therefore how good he must have been to gain selection on a team dominated by the scions of the white ruling class in the Caribbean. In fact, it took another six decades before a black West Indian, Sir Frank Worrell, was appointed to lead the Caribbean's premier cricket team.
Like others after him in the fifties, Alfie Roberts and Ian Neverson, he had to go to Trinidad and play cricket there to get exposure but took advantage of the opportunity to demonstrate his outstanding talents. That demonstration gained him selection for the West Indies first tour of England in 1900 and so well did he perform that he was offered a professional contract to play English county cricket with the unfashionable northern county of Derbyshire.
Just think of it! Half a century before the likes of Viv Richards and Andy Roberts were even born, a black West Indian from a country called St Vincent, (the Grenadines was not yet officially included in the name), not only gained a professional contract for first-class cricket in England but went on to distinguish himself for seven seasons with Derbyshire and placing himself firmly in the annals of Derbyshire and English county cricket.
I would encourage readers to read the BBC article online.
Such is the glowing tribute that Ollivierre is not just eulogized but even compared with one of the great British playwrights of the time, George Bernard Shaw.
"Ollivierre is the Bernard Shaw of the cricketing world" is how the Daily Telegraph described him.
But in SVG, who is Charles Ollivierre?
I would only hope that newly elected President of Cricket West Indies, our own Dr Kishore Shallow, would see this lack of knowledge of our roots as part of his tasks. As the first
Vincentian to be elected to this exalted post, he has special responsibilities. As I congratulate him, he must be reminded that being a pioneer has a number of risks. In West Indies cricket our Alfie Roberts, later to become an outstanding intellectual and progressive nationalist, was the first Vincentian to play Test cricket for the West Indies but was abruptly discarded after one tour of New Zealand. That anti- small island discrimination was later to plague our beloved Mike Findlay, reckoned until today as one of the best West Indian wicketkeepers, and Winston Davis among others. The outstanding Dominican batsman Irving Shillingford also suffered in the regard. So, Dr. Shallow make sure that you leave a positive mark.
(To be continued)
Renwick Rose is a community activist and social commentator.