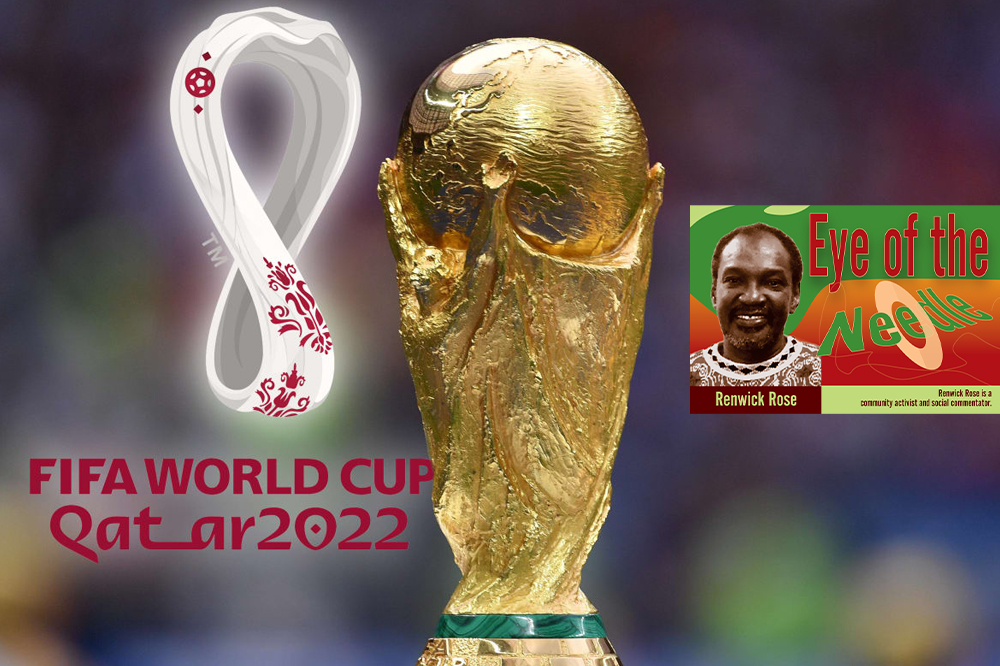 R. Rose - Eye of the Needle
December 16, 2022
World Cup 22: Sharing Thoughts
In spite of the gross disrespect for the Vincentian people, and guests, shown by FLOW, still the premier telecom entity operating here, Vincentians have been finding their way around the Internet, with inconveniences to boot, to watch the 2022 FIFA World Cup.
Football still reigns as "the game of the people" and young and old, female and male, have been demonstrating their interest in the sport by their enthusiastic following of the World Cup.
Now with the Final looming in two days' time, all sorts of predictions, and bets by those so inclined, are being made as to the outcome of the final match which would determine the Number 1 team in the World, the holders of the prestigious trophy.
For yet another tournament, the perennial favourites, Brazil, has failed to make it to the final, and Caribbean fans in particular have been left floundering as to which team they should back. Whatever the choice though, and the outcome of the Final, it would be hard to deny that Morocco has been the team of World Cup 2022.
Who would have dared to predict that this proud representative of both the African continent and the Arab World, would be among the final contenders for the coveted FIFA trophy?
Morocco certainly deserved its exalted place keeping a record, of conceding only one goal, an own goal at that, all the way to the semi-finals. Its fortunes mirrored a pattern of upsets of the "big boys" of football during the tournament which had many fans perplexed. But to have scored successive victories over top-rankers like Belgium, Spain and Portugal, on the way to a semi-final place, was truly magnificent.
Other so-called "minnows" has their day too. Beginning with Saudi Arabia's shock defeat of Argentina, Lionel Messi and all, Australia beat Denmark, Costa Rica upset Japan, with Japan in turn defeating Spain, Tunisia beat France and biggest of all, Cameroon upended tournament favourite Brazil. The global favourites, Brazil, then went on to be knocked out of the competition by Croatia. It is now 20 years since Brazil last won the World Cup.
Another major feature of this World Cup has been the speculation around one of the game's best-ever players, the Argentine, Lionel Messi. Nearing the end of his illustrious career, Messi faced the prospect of never being a World Cup winner, this being the expected last of his five attempts at the Finals. By coincidence, the man considered his career rival, Portuguese goal-scoring ace Cristiano Ronaldo, also faced a similar fate, but past his best could not replicate Messi's performances and ended his World Cup career with far less than the glory to which he had become accustomed.
For Messi, his ultimate test on Sunday is also one to at last lift that huge shadow of Diego Maradona which he has had over him during his outstanding career. Maradona is virtually a God in footballing terms in Argentina and Messi's failure to match Diego's 1986 Argentine World Cup triumph has long been held against him. He has the chance of redemption on Sunday.

How do we choose?
Bar Brazil, a perennial Caribbean choice, football fans in the region use a number of factors in picking their favourites. Brazil is an obvious because it is through Brazil and the immortal Pele in particular, that we were awakened to global soccer in the sixties. The exploits of generations of talented footballers from that country and their racial and cultural affinity towards Caribbean people, sealed that alliance and reverence over the years. But how else do we pick which teams to support?
A number of factors come into play. As in the case of Brazil, Caribbean fans are drawn naturally to players of African heritage and the teams for which they play. It was no surprise that when players from the African continent first appeared in the World Cup finals, they got enthusiastic support from Caribbean people. Up until today Cameroon, Senegal, Nigeria and Ghana are still heavily supported and players like Didier Drogba of the Ivory Coast and George Weah of Liberia have etched themselves in the memory of Caribbean fans.
But there are other considerations as well. Given the predominance of European football in the international media, television in particular, teams like Portugal, via Ronaldo but with several black players as well, are favourably supported. France with its black contingent is also a favourite and as more and more black players grace the England team, its stock rises among Caribbean fans.
But there is also the "underdog" connection, support for small nations and, as when Jamaica and Trinidad and Tobago made the World Cup finals, Caribbean nationalism came to the fore. So how about Morocco? Not just a "minnow" in footballing terms, but a representative of the African continent and the Arab world, neither of which has reached further than quarter finals? In addition, our farmers in particular and Vincentians in general should be unashamedly waving their five-star and wishing all the best.
Morocco is one of those nations which has befriended us. We ought to be proud of their progress and supportive of their efforts. It is a pity that France ended their hopes but what a marker for the future! Nuff respect!
Renwick Rose is a community activist and social commentator.