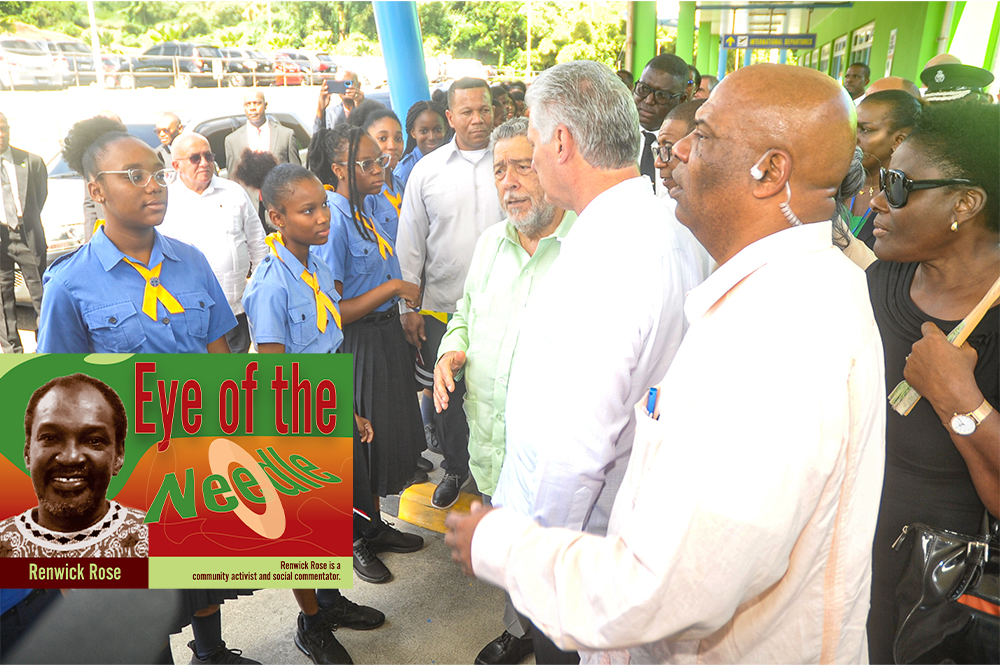 R. Rose - Eye of the Needle
December 9, 2022
Reflections On Presidential Visit
St Vincent and the Grenadines (SVG) has over the years had its fair share of visits by Heads of State and Government since our independence in 1979. Previous to that we had to settle for visits of colonial governors and the occasional one by members of the British ruling family including the late Queen Elizabeth in 1966.
Following our independence in 1979 and the exercise of the sovereign right to develop relations with countries of our choice, SVG has been able to extend invitations to various Heads to visit our islands and in the process to strengthen ties with their respective countries.
We have therefore been able to host visits from a number of presidents of non-Caribbean countries, varying from Venezuela, Taiwan, African leaders from Zambia and the Gambia and, earlier this year, the president from one of the largest and most important countries in the world, India.
Unfortunately, the burning desire of most Vincentians to welcome two of the greatest world leaders of the 20th century, Nelson Mandela and Fidel Castro, went unfulfilled. The hope has lingered that at least we could have the opportunity of welcoming their successors.
In the case of Cuba, a country with which we have developed very strong and tangible links, we were at last afforded an opportunity last weekend when Cuban President Miguel Diaz-Canel made a three-day official visit here at the invitation of our government. Though occurring on the weekend, the feedback on the visit has been overwhelmingly positive.
Perhaps the most poignant example of this is demonstrated in the words of Opposition Leader Dr Godwin Friday during the Special Sitting of Parliament in honour of President Canel's visit on Monday of this week.
Dr Friday, known to be conservative and pro-western in his outlook, astonished many listeners by saying "Cuba has given to our country, a country with such limited resources, more than many of our so-called friends with far more resources than Cuba, For this we will never forget".
Well said, Dr Friday and may this stay long in the memory of you and the party you lead. After all, it was the NDP which opened diplomatic relations with Cuba.
It is a pity that he did not go on, like the rest of the world, to condemn the criminal US blockade of and embargo against Cuba but at least acknowledging Cuba's assistance to us in trying circumstances and contrasting it to the actions of our western "friends" is a step in the right direction.
President Canel acquitted himself well and although there was not enough room for interaction with the Vincentian people, no mass rally for instance, he made an impact, endearing himself when he met Cuban internationalist workers here and Friends of Cuba last Saturday, as well as during his visit to the Georgetown Diagnostic and medical Centre last Sunday.
Not all positive
However not withstanding the positives, there were aspects of the visit which could be found wanting.
Thus, the visit itself was much more low-keyed than one would have expected of the Head of State of a country, which in spite of its colossal problems, has made such a tremendous contribution to the development of St Vincent and the Grenadines and its people.
Surely some effort could have been made to brighten the atmosphere by some welcome banners and buntings placed strategically. If nothing else the ULP could at least have mobilized its members to provide a rousing welcome at chosen points. Party members are not there only to campaign and cheer the comrade, they must be in the vanguard on occasions like these.
It is critical for the government to review the role of the Foreign Affairs Ministry on occasions like these. It is not only protocol and officialdom that are important, but people -to-people relations are also an integral part, indeed the lifeline of the outreach of small countries like ours. What we say and do at international fora like the United Nations must be backed up by our people on the ground. That can only happen if they are involved in the process.
Cuba's magnificent contribution to our development must be known, understood and appreciated by the vast majority of our citizens. Whether in schools, communities or with special interest organizations, the nation must be mobilized to reflect our gratitude, solidarity and genuine friendship. The Cuban internationalists in our midst must be treated with the respect and camaraderie they deserve.
There are those among us who, whether out of backward political thinking or personal reasons, persist in trying to belittle the efforts of the Cuban internationalists and their government. We must not entertain these negative nay-sayers. A friend in need is a great friend indeed. Cuba deserves our highest expressions of friendship and solidarity. We can do no less.
Renwick Rose is a community activist and social commentator.