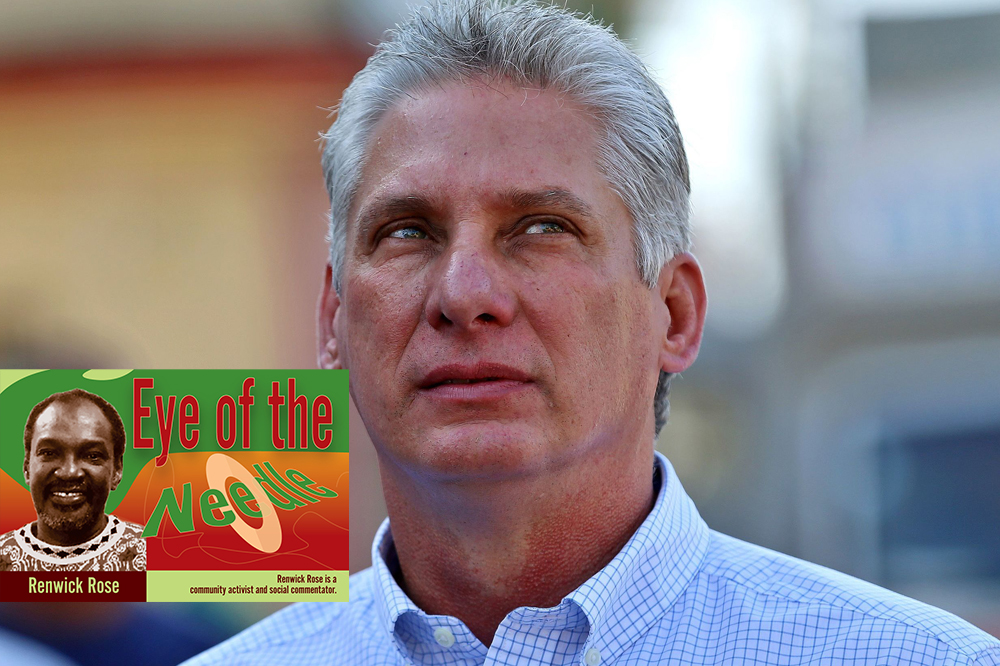 R. Rose - Eye of the Needle
December 2, 2022
Visit of Cuban President, December issues
This weekend St Vincent and the Grenadines lays out the diplomatic "red carpet" to welcome Cuban President Miguel Diaz-Canel for a three-day official visit. It will be the first visit of a Cuban Head of State to this country, and, given the strong bonds of friendship and solidarity between our respective peoples and governments, President Canel and his delegation can expect a warm "Vincy" welcome.
It is a pity that Vincentians never got the opportunity to welcome the legendary Cuban leader Fidel Castro Ruz who died in 2016 for he has made an indelible mark on our history. Not only are there tangible physical monuments that testify to his influence on our development such as our international airport and the Georgetown Medical Centre, but there is also the lasting human link in the Cuban internationalist workers here and the growing cadre of our intellectuals trained in Cuba.
It is only natural that as an avid and long-time advocate of SVG-Cuba relations, I use this opportunity to extend my welcome to the Cuban President and delegation. I recall the bitter days of hostility to Cuba when those of us who dared to visit that country to see what its Revolution was doing, had to be secretive and endure the indignity of police searches on our return. We even had to hide the literature we brought back from Cuba, as if they were bin Laden instructions, and there was a constant torrent of lies and propaganda about Cuba spewed out by politicians, the media, preachers and the vocal ignorant. So bad was it that in 1979, after the April eruption of the Soufriere Volcano, Cuba, even though it had no diplomatic relations with a not-yet-independent SVG, sent a ship of supplies here. The ship and its supplies were kept waiting in the harbour and it was only intensive efforts that got the government of the day to reluctantly accept relief supplies for those affected by the eruption.
Finally, it is only fitting that as we welcome the Cuban President, we recall and praise the bold initiative by the late Vincentian leader, Prime Minister Sir James Mitchell, to open diplomatic relations with Cuba in 1992. Sir James was no ideological bedfellow of President Castro, but he was sufficiently open-minded and realistic to see that such a relationship was in our collective best interests. It is a pity that some who pretend to follow in his shoes are so backward, three decades
after the Mitchell initiative.
DECEMBER ISSUES
We have begun the critical month of December with the annual Christmas clean-up, a sprucing up of the physical environment. Appeals are being made to those who benefit handsomely from Christmas spending to play their part in the brightening-up, by lighting up their business places, complementing the efforts of ordinary Vincentians in towns and villages. If the people who spend money with you for the Christmas can play their part, what of you?
Given all the attention on climate change and the environment internationally, it is critical that we begin to see this clean-up and the mid-year one, as not just an opportunity to provide very temporary employment to those not regularly employed, but more so, as an important environmental action.
I have written time and again about the need to deepen and extend this programme, including educating those who participate in it. Who knows? It might help in case we get a repeat of the dreaded "Christmas flooding" of 2013.
There is also the physical clean-up of the capital city and the attempt to ease the congestion in Kingstown. It is ironic that the much-welcomed relief on the importation of Christmas barrels, originally intended to help families whose relatives abroad send items "of good cheer", has contributed to the street vending problem, for that's where many of the barrels end up.
If there is one group of people who have been getting "tidings (and gifts) of great joy", it would be the farmers. The politically cynical among us talk of benefits going to the "red zone". Unfortunately, their interpretation of "Red" is politically tainted. But certainly, and deservedly, significant resources are being ploughed into the areas worst affected by the volcanic eruptions and environmental aftermath.
I have my own reservations about the impact of too much "freeness" for I do not get the impression that it comes with injecting a greater sense of responsibility among those who benefit most.
These sociological factors must be seriously taken into consideration. Not enough is being done in developing the consciousness of our working people so that such herculean efforts of the government in mobilizing and providing resources get fully appreciated and imbue a greater sense of patriotism and commitment to the development of the country.
Sadly, there are those inspired by greed, ruling party hacks among them, who, "the more they get, the more they want". It is a burgeoning problem that needs to be tackled. People are more and more going to the government for every little problem, with little effort on a personal or community level to find solutions. Even burials now are being subjected to requests to welfare – government must bury our dead.
We have a lot to work on for the new year.
Renwick Rose is a community activist and social commentator.