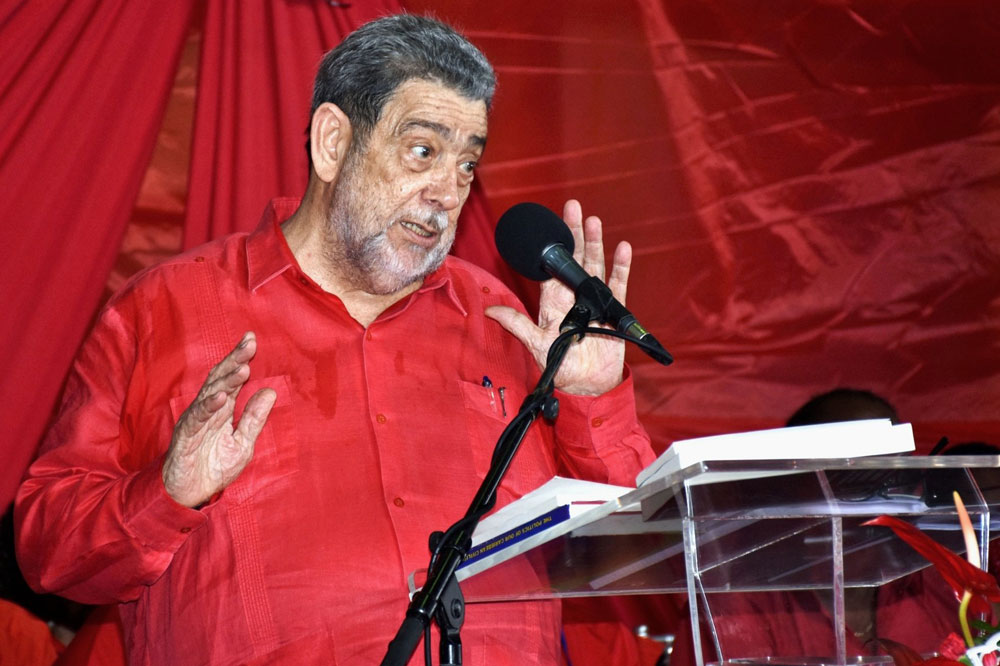 R. Rose - Eye of the Needle
August 5, 2022
It is not about Ralph at all
A French King, Louis 15th I think, was quoted as making the infamous remark, "Apres moi, le deluge". Meaning that whatever would go wrong would do so, "after my time". It would be tempting for opponents of Prime Minister Gonsalves to invoke this quotation to characterize the outcome of last Sunday's National Convention of the Unity Labour Party (ULP) and to strengthen their tirade against him. Frankly speaking, he has left himself exposed to this and even more virulent attacks, for somehow he managed to turn an event with profound national implications into a discussion about himself.
After years of talking about succession planning and even campaigning in the last general elections with two chosen "successors", we ended up with the same old meal ticket, the Gonsalves-Daniel duo. Already, opponents and detractors inside and without the party are screaming "blue murder" about the anti-climax.
What began as a healthy departure from political traditions in the Caribbean in terms of open discussion on succession planning turned out to revolve around PM Gonsalves. It is he and he alone who made all the public pronouncements and he, in the fashion of what is colloquially termed "back back turtle", who led the retreat and resort to the status quo. Surely there must have been alternative views. What danger was there in letting the public hear differing views and approaches?
It certainly is not a matter only for the party hierarchy and faithful. I quote here from my column of the second week of November 2017:
"Given our two-party system, political leadership of one party or the other becomes not just of interest to the members of that political party, but arouses public interest since that potential leader or leaders may well become the leader of the country as a whole".
Given this probability, what happened at the ULP Convention became "all ah we business". We may not all be as wise as PM Gonsalves, nor have 54 years political experience, but we are certainly entitled to have a say in choosing who is to lead our country. If ULP members wish to keep it amongst themselves, then that can only be to their detriment for they could end up with the baby being discarded with the bath water.
Let me again quote from the 2017 column:
"To his credit, Dr Gonsalves has broadened the discussion, and raised the more encompassing issue of succession planning, preparing leadership for the future. In so doing he made reference to our historical experiences with the failure of his predecessors at the national level to address the matter with a view to the future. The dominant figures of our post-Adult Suffrage politics, Ebeneezer Joshua, Milton Cato and Sir James Mitchell, all had failings in that respect".
Having recognized this and possessing the courage to bring the matter in the open, including letting us know of the "quality" of his probable successors, what now is the problem in letting the party choose one of them as Deputy Political Leader? Is this an admission that neither is "ready" as yet? And if so, what is the danger in admitting this, pointing to weaknesses and steps to be taken to correct these? Are we not yet mature for such an open process?
But any such admission that the succession plan has itself not succeeded brings to the fore serious weaknesses. Is the ULP telling us that two bright young men with years of Ministerial experience are still "not ready" after all these years? Is the primary cause their own individual weaknesses or a lack of space to demonstrate their leadership at the highest level?
Several times in the past I have commented on this practice of centralisation by the ULP government. Take the COVID crisis for instance, when almost every major statement had to emanate from the PM himself. But we have a Minister of Health who we believe belongs to the "brilliant" crop of leaders identified by Dr.Gonsalves. In spite of having a Press Secretary, NBC Radio, API and VC3 at his disposal, every major statement, even the handing out of rewards to primary school students for examination success seemed to involve the PM. How could succession develop in this manner?
Last Sunday represented a retreat, retrogression on the part of a party which had a glorious opportunity to chart another path to political development. After years of exhorting that we should allow our young people to "soar with their wings unclipped", what has happened to the young potential Cabinet birds?
The veterans in the persons of Dr. Gonsalves and his Deputy Montgomery Daniel cannot go on forever. If Saboto Caesar and Camillo Gonsalves are not yet "ready" for leadership, then who in the ULP fold is ready? When will anyone else be ready?
We should all be concerned for the leadership vacuum also applies to the Opposition. This is our country. Dr Gonsalves opponents are fond of saying that "the Emperor has no clothes", but what of the rest of us, the country he leads? Do we have our clothes on?
CONDOLENCES
Let me here extend my condolences to the wife and family of the late outstanding broadcaster, Maxian Harry, incidentally a former student of mine. His contribution in the media field will be remembered.
Renwick Rose is a community activist and social commentator.