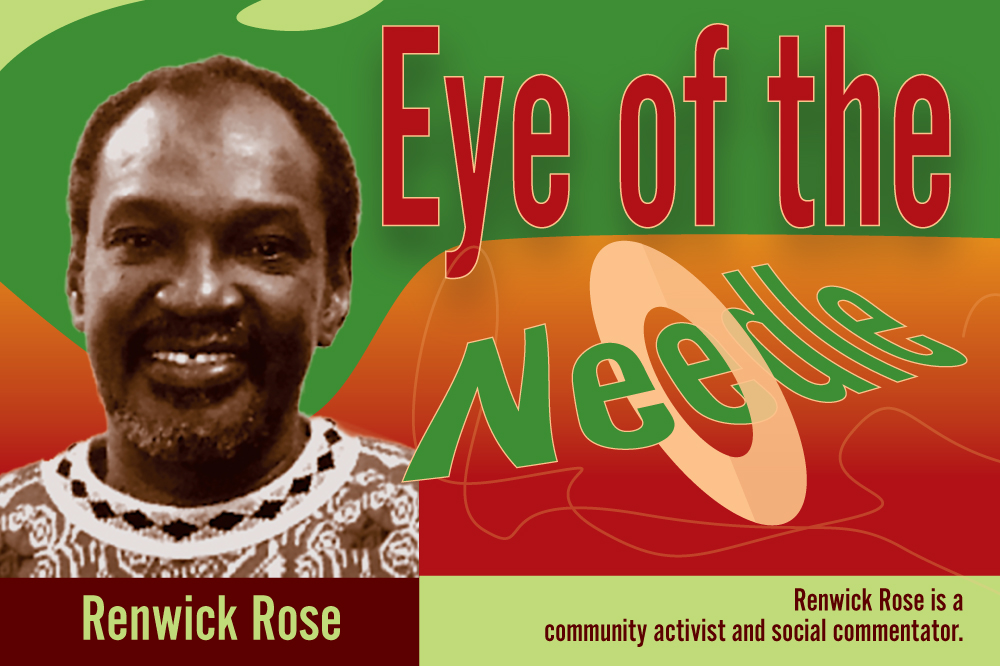 R. Rose - Eye of the Needle
July 29, 2022
Looking 'Below the Surface'
In 1998, a Vincentian calypsonian, the late Roy Lewis, singing as the Mighty Prowler, won the calypso Monarch title in Trinidad and Tobago, no easy feat for a non-Trinidadian. Still far more recognized in T&T than in the land of his birth, Prowler's winning song is today regarded as one of the calypso classics of the ages.
Entitled "Look below the surface", it provides a sociological lens to look at things and events, delving below the surface. It is an interesting approach to analysis which can provide very different results from what they might appear at first. Let's try it out with the recently-concluded World Athletics Championships, held in Oregon, USA.
Who won?
First, one must say that being able to hold it on US soil was a major triumph for US Track and Field. We have become so accustomed to US dominance in athletics at both the "Worlds", as these Games are sometimes called, and the Olympics, that it is taken for granted that athletics is a major sport in the USA. When we look below the surface, we would discover that Track and Field is not even among the top 10 sports in the USA. The athletics authorities there were looking forward to the Games being such a success that it would boost the popularity of the sport there. Hopefully, they may have succeeded.
Where the medal count is concerned, the athletes of the home nation propelled their country to the top, winning a record 33 medals, the biggest haul ever, with 13 of them being gold. All congrats to them, their hard work preparation and delivery. Tied behind the USA were three countries, Ethiopia with 10 medals, four of them gold, Jamaica (two of them gold and seven silver) and Kenya, also with 2 gold medals. The South American country of Peru claimed its first-ever wins, both by walker Kimberley Garcia Leon and China and Australia each gained two gold medals.
A wide spread of countries were in the one-win category, but from a Caribbean perspective, elation and praises go out to Grenada, whose Anderson Peters repeated his 2019 triumph to accompany the heroic Kirani James' silver in the 400 metres; to Shaunae Miller-Uibo of the Bahamas, women's 400 metres champion; the magnificent Yulimar Rojas of Venezuela who took the triple jump title to accompany her Olympic gold; and the Dominican Republic, winners of the 4x 400 metre mixed relay, while Marileidy Paulino bravely battled Miller-Uibo to take silver.
So who really won? First and foremost, it was a triumph for sport and track and field in particular. However given the rivalries and following Prowler in looking "below the surface", a social media posting has revealed some interesting perspectives.
It noted that the USA won 33 medals and with a population of 330 million, that works out to one medal per 10 million people. Ethiopia with a population of 115 million took 10 medals, one for every 11.5 million Ethiopians, while Jamaica had the same number of medals but with 2.91 million people, that worked out to a medal per 291,000 Jamaicans. But looking even deeper "below the surface", the social media post concluded that the overall winner was……GRENADA. Its two medals for a mere 100,000 population produced the winning ratio of 1 medal per 50,000 Grenadians. Congrats!
Finally, in an age where people of colour, especially those "darker than blue", our look "below the surface" must consider the racial element. All international sporting bodies have pledged to combat racism in sport. It is therefore heart-warming to welcome the progress of athletes from small and developing nations and, in developed countries, from black athletes.
Half of the US gold medal haul came from black athletes, as did Canada's gold and silver; Germany's lone gold came from Malaika Mihambo whose father hails from Tanzania in Africa; the gold medal winners from Qatar and Portugal originated in Sudan and Cuba respectively and the outstanding young American athlete, Athing Mu has Sudanese roots.
On a sad note though, Cuba, once a global powerhouse in athletics, did not win one medal, reflecting the impact of crippling sanctions which is hurting all areas of life.
But to conclude with the race analysis, the continued demonstration of the excellence of black athletes, whether from Africa, the Caribbean or in the heartlands of racism, North America and Europe, make a complete mockery of those who in this day and age still try to promote discrimination and racial superiority. To see white Americans proudly cheering black athletes makes one wonder how such a society, dependent on these same black folks, could continue to tolerate such racial nonsense.
The fight to end racism in sport is but part of the wider human struggle for equality and an end to all forms of discrimination.
It is a potent message on Emancipation weekend.
Yes, it's good to "look below the surface". Thanks, Prowler!
Renwick Rose is a community activist and social commentator.