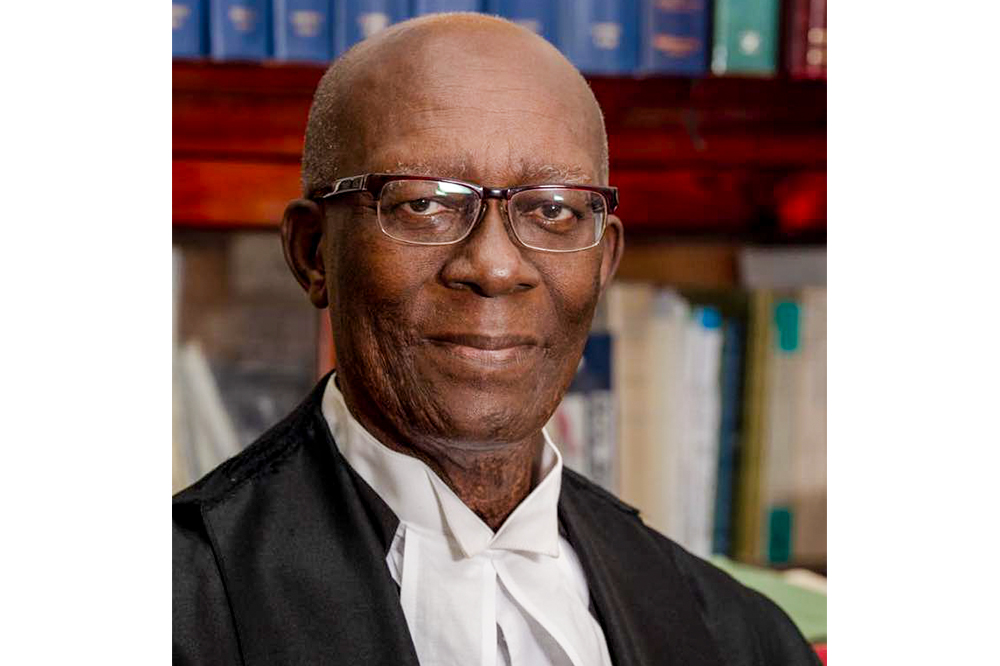 R. Rose - Eye of the Needle
May 7, 2021
PR: Patriotic and resilient
In paying my respects to our dearly departed brother, P.R. Campbell, permit me to begin by saying how touched I was by the presentation last Monday night by PR's daughter Mandella, of her late father's seminal project, the voluntary television programme "The Law and You", as well as her maturity in handling the account of his last days. 'Nuff' respect to you, my sister, and don't ever let them try to saddle you with any grievance they might have had against him. Wear his legacy with pride and convey my sincerest condolences to your Mum, Julie, and the rest of the family.
There will of course be no shortage of tributes to such a remarkable person and committed patriot as PR was, so I want to take a different approach to my 'two cents bit'. My emphasis will be on that same patriotism but also some personal qualities he displayed such as his level of discipline, organisation, tolerance, maturity and willingness to let bygones be bygones. Not many of us are capable of that.
I have had the honour and pleasure, even the occasional frustration of working alongside PR, principally on political, social and civil society issues. It may be fair to say that besides all the outstanding work he accomplished in his life, including his stint as Attorney General and the part he played in the revision and compilation of our laws, his lasting legacy to society may be "The Law and You" programme. What a commitment to country and people!
Yet that commitment was not by chance, it seemed to be in his DNA. It is that same dedication to people and country which inspired him to undertake the onerous task of leading the Constitutional Review Committee (CRC) and spearheading that critical phase of our political and constitutional development for almost a decade.
For it, he was much maligned by some of his former political colleagues, some of whom, themselves members of the CRC, chose to play obstructionist roles because of their opposition to him. PR however refused to be drawn by them, agreed when they had points of merit but was never cowed into submission or opportunism on issues of principle.
In fact there were those on the other side of the political spectrum who also tried to get him to toe the political line of the governing party, not always in sync with CRC thinking. To make matters more complicated, there were those of us, not affiliated to any party, who would sometimes get frustrated when he seemed to be balancing the views of the political partisans even though it was apparent that his own heart was elsewhere. It was not an easy exercise.
But PR had faced the fire before, constitutional development and shedding the colonial trappings had long since inspired him and led to him becoming a leading force in the anti-colonial progressive movement, the Forum, later to become the DFM and PDM. Largely comprised of intellectuals, it began opening the eyes of young Vincentians to black consciousness.
For this, he and his colleagues were much maligned, as were many other so-called 'Black Power' advocates of the time. PR died with some folks still believing the lie that he burnt the Holy Bible while teaching at Grammar School. Like most lies there were different versions including attributing the Bible burning to others, like Kerwyn Morris and even Eddy Griffith, now both deceased. Those lies about Black Power and communism are still with us. I know. I suffered too.
The slander and lies pursued him, when he became a leading member of the NDP, then when he left and during the CRC process. But to his credit, he never flinched, not even when his erstwhile NDP colleagues imputed all sorts of motives to his disagreements with him. To add to this many in the political field could not understand his genuine commitment to the Spiritual Baptist movement and some again imputed improper motives. He again proved them wrong.
This side of his character lives in my mind. He was once part of a three-way leadership battle in the UPM in 1979, (Ralph Gonsalves, Renwick Rose and he, PR) when the Labour Party propaganda machine referred to us as "the three-headed monster". We had our internal disagreements and this continued after the 1979 elections which the UPM lost. When PR and the PDM split from the UPM, some of us heaped a lot of blame on PR for it, even believing that the hand of US imperialism was behind it. We also castigated him for joining Mitchell's NDP.
Through it all he took his political blows and to his end never exhibited any malice. In fact in the CRC we worked closely together and my admiration for him continued during his principled positions on many social issues on which we consulted.
PR was a remarkable patriot who literally put his life at the service of country and people. Rest in peace, my brother, your contribution will never be forgotten.
Renwick Rose is a community activist and social commentator.