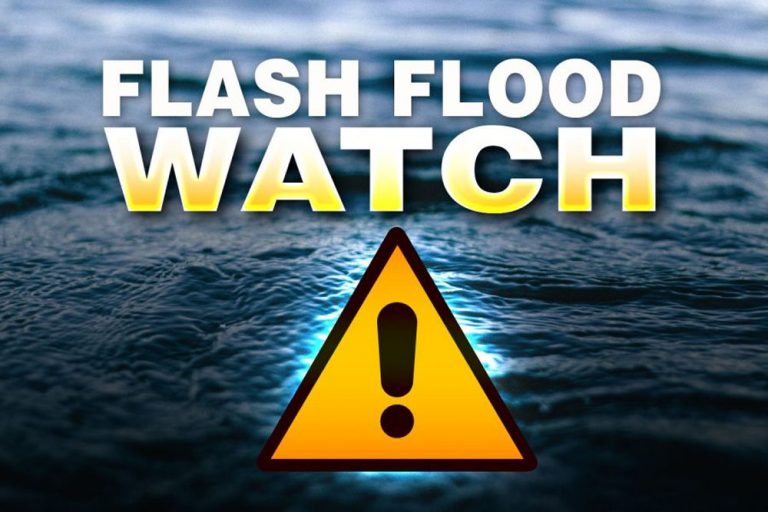 Press Release
November 11, 2023
Flash Flood Watch in effect for SVG until Sunday
Issued at 6:00 pm, Friday 10th November, 2023
Partly cloudy-cloudy skies with periods of rain, inter-mixing with overcast skies,  occasional strong gusty winds and moderate-heavy showers across St. Vincent and the  Grenadines (SVG) are expected to continue tonight and during the weekend.
Significant  rainfall accumulations are likely to continue across the Grenadine Islands and spread to  St. Vincent late Saturday. Rainfall accumulations of 75 – 100mm (3 – 4 inches) with higher  amounts across parts of SVG are possible within the next 48 hours.
In addition, fresh-strong (30 – 45 km/h) breeze continue across our islands and squally  conditions/higher gusts are likely near showers. Residents, motorists and mariners in  wind-exposed areas should be prepared!
Due to the already saturated nature of soils in some communities, the weather advisory alert in effect for a low risk of flooding for St. Vincent and the Grenadines has been  upgraded to A Flash Flood Watch until 6:00 pm Sunday 12th November 2023.
Residents  and motorists in areas prone to flooding and landslides or near rivers and streams  should be prepared!
A Flood-Watch is issued when conditions are favourable and there exists the possibility  of flooding during the watch period.
This Flash-Flood Watch may be upgraded to a Flash-Flood Warning if conditions warrant or discontinued if conditions subside before 6:00 pm Sunday 12th November 2023.
Prepared by:
Mrs. Joan Mc Donald
Meteorological Services
Argyle International Airport