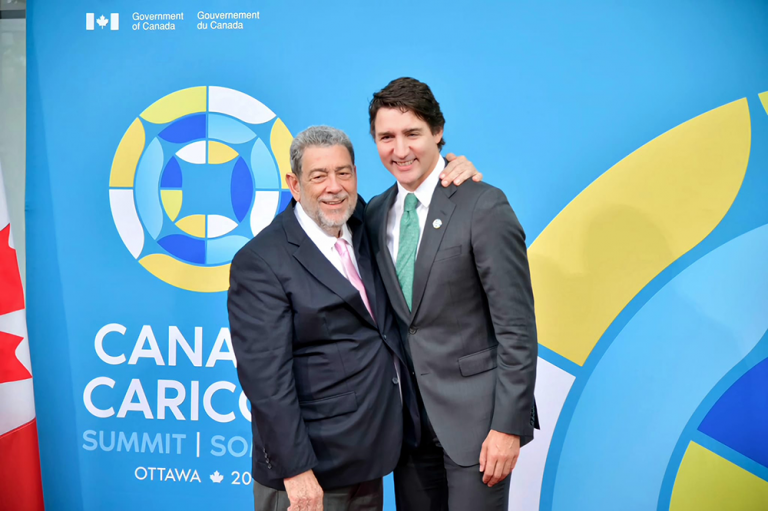 Press Release
October 18, 2023
PM Gonsalves attends Canada-CARICOM Summit
Prime Minister Ralph Gonsalves, is in attendance at the Canada-CARICOM Summit from October 17 to 19, 2023.
Canada's Prime Minister, Justin Trudeau is co-chairing the Summit, which is being held on Canadian soil for the first time, alongside the Roosevelt Skerrit, Prime Minister of Dominica, and current Chairman of Caribbean Community (CARICOM).
Prime Minister Trudeau is hosting leaders from CARICOM as the regional bloc observes the 50th year since its formation on August 1, 1973 with the signing of the Treaty of Chaguaramas.
The Canada-CARICOM Summit is seen as opportunity to highlight Canada's strong ties with the Caribbean, provide an opportunity for the leaders to strengthen cooperation and to chart a better future for people in both regions.
Regional media were invited to cover the opening remarks at select Canada-CARICOM Summit sessions. The events are being live-streamed on @CanadaFP (English) / @CanadaPE (French) Twitter/X accounts.
A full list of links to the streams can be found at: https://linktr.ee/canadacaricom2023. Viewers can select a stream in English, French, or the Floor Audio. Links will also remain active for viewing after the stream has ended.
Viewers can follow the live-streaming online at APISVG on Facebook or via the API's cable channel – 116.
Streaming is also available on Global Affairs Canada's YouTube channel.
Source: API