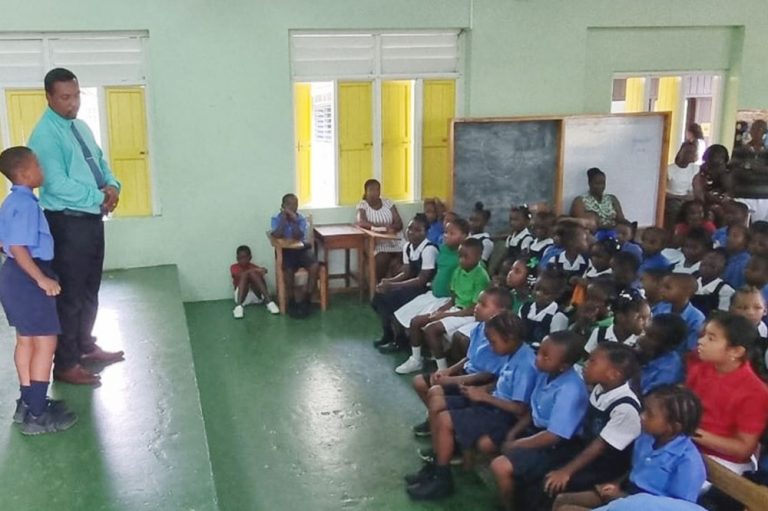 Press Release
September 26, 2023
Belair Government School PTA awards outstanding students
Nine present and former students of the Belair Government School were awarded last week for outstanding performance.
The 2022/2023 Prize Giving and Award Ceremony, organised by the Belair Government School Parent Teacher Association (PTA) took place on September 20 at the school compound. The ceremony saw several students being awarded for top performances in their respective classes.
The most outstanding students were Aiden Jackson,Caius Leighton and Iyanne Miller – Grade K; Ariyah Roberts – Grade 1; Amarii Quinton – Grade 2; Cheyenne Enville – Grade 3, K'Nia Findlay – Grade 4; Chase Franklyn – Grade 5; and Brielle Robertson – Grade 6.
Brielle Robertson, who topped her class in the 2023 CPEA Exams, and also won the award for the most responsible student, is now a student at the Girls' High School.
President of the Belair Government School PTA Joseph Bascombe reinforced his commitment and that of his team to continuing to recognize outstanding performances, and to further develop the school through innovation and commitment.
Bascombe in his address stated, "Use the Internet to your advantage to further develop your academic capabilities. Any information you need on any subject area is available on the Internet. If you miss school you can catch up on what you missed by going to the Internet where there are tutors also available to you."
The annual Belair Government School PTA award ceremony was introduced in 2018 and has been a success every year since it was introduced through Bascombe's initiative. It is the only ceremony of its kind in St Vincent and the Grenadines undertaken by any PTA.
With assistance from corporate St Vincent and the Grenadines, the awardees received a trophy, a book, and cash.
"We must give special thanks to the Government Employees Co-operative Credit Union (GECCU) for sponsoring the trophies, and all others. We appreciate your support very much. We are grateful!" Bascombe told the gathering.