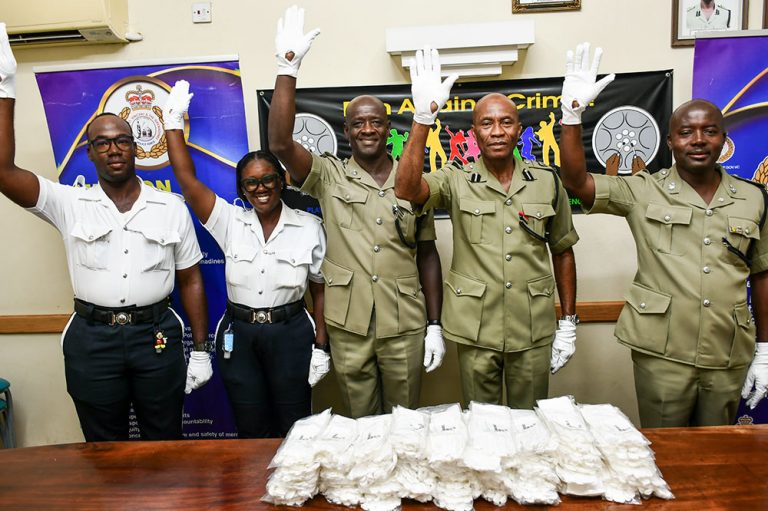 Press Release
September 15, 2023
Ex-police officer donates gloves to Traffic Branch
Police officers attached to the Traffic Branch of the Royal St Vincent and the Grenadines Police Force (RSVGPF) are the beneficiaries of a donation of 159 pairs of white gloves.
Rawlston Alexander, an ex-police officer now serving in the Royal Navy donated the gloves which were handed over yesterday, September 14.
"Having worked at the Traffic Branch, I have appreciated how much the wearing of white gloves can help in the safety of traffic officers while they are executing their duties. So I decided to make the donation as a goodwill to the men and women at the Traffic Branch," Alexander said.
Assistant Commissioner of Police (ACP) Leonard Fergus handed over the gloves to Assistant Superintendent of Police (ASP) Parnel Browne – Head of the Traffic Branch during a brief ceremony at the Police Conference Room.
ASP Browne said "On behalf of the Commissioner of Police and the staff at the Traffic Branch, I wish to thank Mr Alexander for the timely and generous donation. These gloves will greatly assist traffic officers by enhancing their visibility to motorists and other road users when regulating the traffic on our roadways. While the safety of commuters and motorists is a priority, the safety of the officers regulating the traffic is very important as well."
ACP Fergus also thanked Alexander for gifting the police with the gloves and gave the assurance that they would be used to direct and manage traffic effectively on the nation's roads.