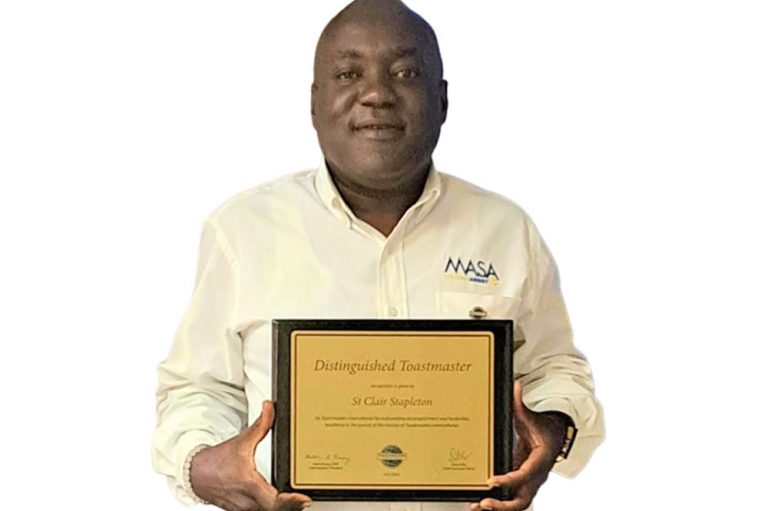 Press Release
September 12, 2023
Vincentian achieves Toastmasters International's highest honour
After eight years of unwavering dedication, St Clair Stapleton of New Montrose, Kingstown, has achieved the pinnacle of a worldwide educational organization, Toastmasters International.
He has been awarded the title of Distinguished Toastmaster, the highest educational level in the organization, which has about 280,000 members in 144 countries.
The award was conferred on Stapleton in July. As noted in the letter he received from Toastmasters International, the honour signifies that he has demonstrated "outstanding service and accomplishment in leadership and communication skills'' and has used these skills to help others in their self-development efforts.
To acquire this distinction, Stapleton learned through practice—delivering numerous speeches on varying topics; competing in speech contests; serving as club president; initiating public-speaking contests; and mentoring and coaching other Toastmasters and clubs.
He also served, from 2021 to 2022, as Area Director (Grenada) with the mission to help clubs grow.
Distinguished Toastmaster Stapleton is a member of seven Toastmaster clubs in the region and has successfully applied the skills he developed as a Toastmaster to his career as a sales executive. "Don't listen to the naysayers,'' he often says. "Believe in yourself.''
Distinguished Toastmaster Stapleton is known for his sense of humour, determination and passion for personal and professional growth. He commented, "When I joined Toastmasters, I was at the lowest point in my life. Toastmasters has given me the tools to succeed at life. Now, I mentor others for success.''