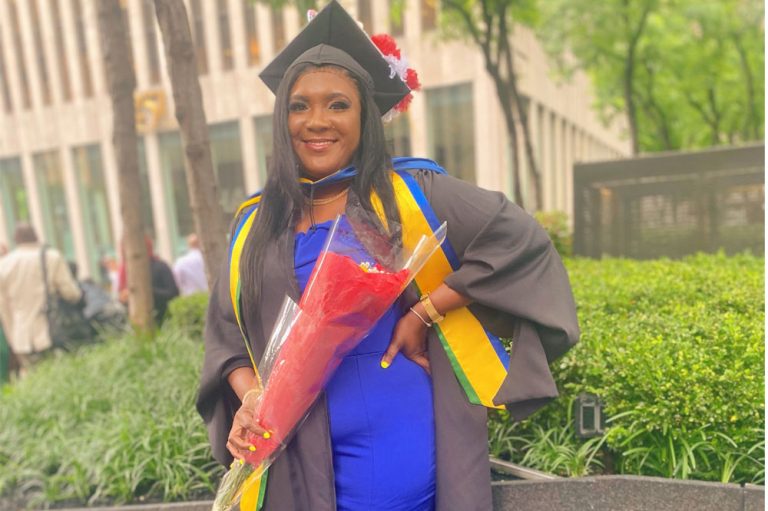 Press Release
September 12, 2023
Corporal graduates with master's degree in forensic psychology
A corporal of police has graduated with a master's degree in forensic psychology.
Corporal 808 Verna John graduated magna cum laude (with great distinction) from Kings Graduate College, Rochelle Campus in New York on June 16, 2023.
"I fell in love with psychology during my undergraduate studies, and after giving it some thought, I concluded that forensic psychology worked well with social work and could also be used in the police organization and, by extension, the criminal justice system. As a police officer, I place a high value on having a thorough understanding of psychology, criminal behaviour, the criminal justice system, and how they interact," Cpl John said with joy and satisfaction.
She admitted that fear was a big challenge for her during the early stage of her educational journey.
"Initially, fear was my biggest challenge; fortunately, I did not allow my fear of inadequacy and self-doubts to paralyse or immobilize me. As time progressed, my fears became my most excellent motivator and success became my mindset. I relied heavily on God and one of the many scriptures that helped me stay focused during the course of my studies is "I can do all things through Christ who strengthens me." Philippians 4:13.
Cpl John completed her internship at the Freedom Youth Family and Justice Center in New York as a Case Manager. Her roles and responsibilities included – counselling youths and completing intake assessments of survivors of human trafficking and domestic violence.
Her internship afforded her the opportunity to work with the Department of Homeland Security, the New York Police Department (NYPD), and the Administration for Children Services (ACS). She is currently completing her Optional Practical Training (OPT) as a Mental Health Therapist at a Mental Health Outpatient Agency in Pennsylvania.
"I want to use this opportunity to express my gratitude to God for his unfailing love and strength, as well as to my family and friends for supporting me during this journey; the Government of St Vincent and the Grenadines, the Commissioner of Police, and by extension the RSVGPF," Cpl John said.
In October 16, 2021, Cpl. John graduated with a Bachelor's Degree in Social Work and a Minor in Youth Development Work, with First Class Honours from the University of the West Indies, Global Campus. She commenced her graduate studies in January 2022 at the Kings Graduate College in St. Lucia before transferring to the sister college in New York, USA.
The Commissioner of Police and the members of the Royal St Vincent and the Grenadines Police Force extend congratulations to Cpl John on her academic achievement and wish her the very best as she develops herself, which will redound to the benefit of the organization and the country. (Police Public Relations)