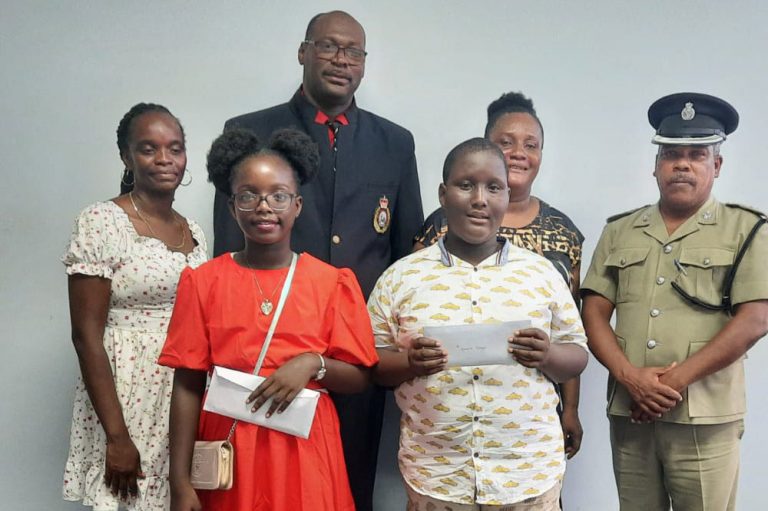 Press Release
September 1, 2023
Top CPEA performers from Georgetown Police Youth Club awarded
Melnathlee Jennifer-John and Kemanie Glasgow, former students of the Dickson Methodist School have been rewarded for their performance in the Caribbean Primary Exit Examinations (CPEA) which they sat in May 2023.
Melnathlee and Kemanie were the top performers among the members of the Georgetown Police Youth Club who also sat the examinations.
On August 28, the Divisional Commander of the Eastern Division, Superintendent of Police (SOP) Hesran Ballantyne, and Constable 781 Marcus Patrick, District Coordinator of the Georgetown Police Youth Club (PYC) handed over cash bursaries in the sum of $800 each to the students.
The brief ceremony was held at the Georgetown Police Station and was witnessed by the students' parents, Nathalie John and Satacha Glasgow.
Constable 781 Patrick said "A resident of Georgetown who wishes to remain anonymous donated the monies to the Georgetown Police Youth Club to aid in the educational development of the members of the club.
I feel very happy to know that members of the private sector recognize and appreciate the work that the Police Youth Clubs are doing to mould our youths into becoming responsible men and women."
In his brief remarks, SOP Ballantyne congratulated the two students for passing the CPEA and for being the recipients of the bursaries.
"On behalf of the Commissioner of Police, Mr Colin John, and the members of the RSVGPF, I wish to express gratitude to the person who made the financial contribution to Melnathlee and Kemanie. It is my hope that this donation will encourage other members of the Georgetown Police Youth Club to excel in their education."
SOP Ballantyne encouraged the parents to utilize the funds in a meaningful way, specifically by purchasing school items for the students as they prepare to return to school for the new term.
The parents of Melnathlee and Kemanie also thanked the donor and the Georgetown PYC for the financial contribution.