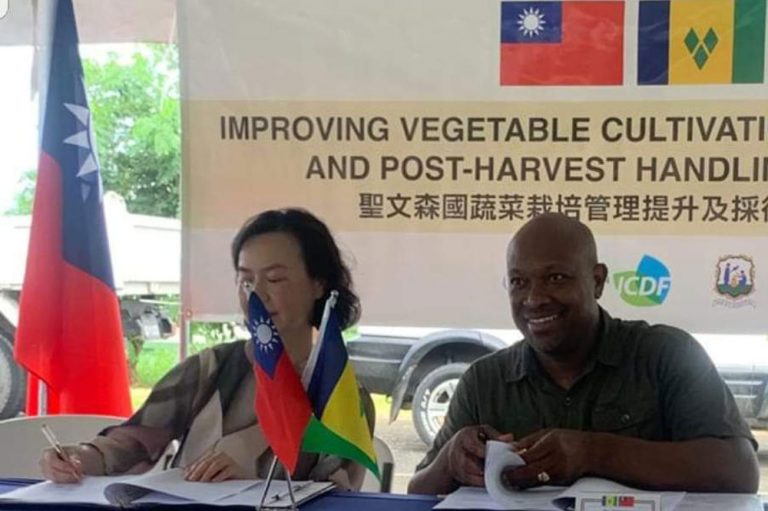 Press Release
September 1, 2023
SVG and Taiwan sign agricultural agreements valued at over $11 million
The relationship between St Vincent and the Grenadines (SVG) and the Republic of China (Taiwan) was further strengthened last Friday with the signing of two agricultural agreements.
The agreements are for two projects – 'The Improving of Livestock Rearing Project' and 'Improving Vegetable Cultivation Management and Post-Harvest Handling Project', valued at approximately XCD 11.4 million Minister of Agriculture Saboto Caesar signed on behalf of the Government of SVG and Ambassador of the Republic of China (Taiwan) Fiona Huei-Chun Fan signed on behalf of her country.
Ambassador Fan noted that since assuming duties in SVG,  she has met with Minister Caesar to discuss the strengthening of agricultural cooperation and these projects will improve lives and livelihood.
The Taiwanese Ambassador said through collaboration and knowledge, livestock practices can be improved, contributing to economic growth and ensuring a stable meat supply for Vincentians.
Minister of Agriculture Saboto Caesar thanked the Government of Taiwan for its assistance on the projects.
Caesar noted that agricultural diversification has been a pillar of his ministry over the years and that some of the funds provided through the project will do work at the palletization centres at Langley Park, Lauders, La Croix and Belmont on the leeward side where farmers will be able to take their produce for purchasing.
He also noted that there is a demand from OECS countries for livestock from SVG. He encouraged livestock farmers to form more associations and assured them that the ministry will continue to provide support to them. (API)