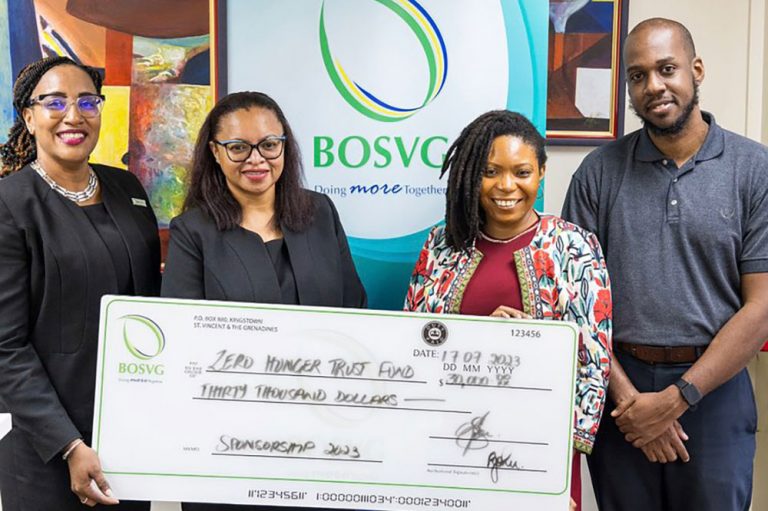 Press Release
August 11, 2023
ZHTF receives donation from BOSVG
The Zero Hunger Trust Fund (ZHTF) received support from its committed partner, Bank of Saint Vincent and the Grenadines (BoSVG) in the sum of EC$30, 000, towards the 'Adopt A Classroom' programme. Since 2021, BoSVG has partnered, yearly, with the ZHTF SVG to assist students in primary schools from vulnerable communities.
Under the 'Adopt A Classroom' programme, the ZHTF SVG has provided annual support to students from 12 'adopted' primary schools, Barrouallie Anglican, Barrouallie Government, Calliaqua Anglican, Chateaubelair Methodist, Clare Valley Primary, Fair Hall Government, Fancy Government, Gomea Methodist, Lauders Primary, Mayreau Government, Rose Hall Government and Sandy Bay Government School.
The 'Adopt A Classroom' programme was established in 2016 to support students from vulnerable communities, in attaining the educational skills necessary to be self-sufficient citizens and reduce instances of hunger. The support covers the cost of textbooks, school uniforms and other necessary school supplies for students at 'adopted' schools. To date, a total of approximately 350 students have been supported by the programme.
The ZHTF takes the opportunity to express its appreciation to the BoSVG and looks forward to its continued partnership.
For more information visiting the ZHTF website www.zerohungersvg.com or contact the office at (784) 457-1738.