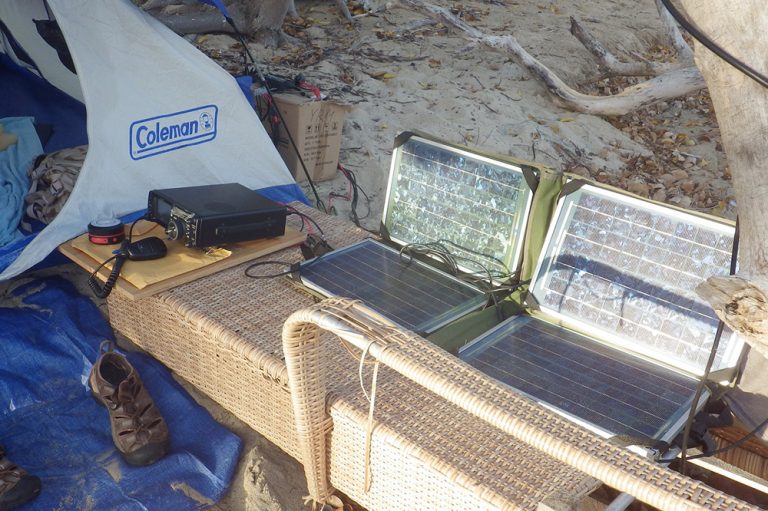 Press Release
June 6, 2023
Youlou Radio Movement readies for the 2023 Hurricane Season
by Donald De Riggs
Director RRL/YRM
Weather forecasters have predicted a slightly above average storm season, but that is not the only reason for the annual pre- hurricane season communications drill conducted by the Youlou Radio Movement formerly the Rainbow Radio League (RRL/YRM). The drill was done on Sunday, May 28, beginning at 4:00 in the morning, while many Vincentians may have been sleeping soundly or just returning from a weekend party or other function.
The main purpose of this emergency communications drill was to physically and mentally prepare our volunteers for unknown realities that nature or man-made hazards can throw at us. This means staging our exercises at odd hours, as disasters can strike at any time- day or night, whether it is a plane crash or earthquake. Our motto: 'Maximum Participation" defines our mode of operation. In other words, we give it our best, whether we are training or responding to real life situations, like in Dominica following hurricane Maria.
In 2017 a joint medical and emergency communications team from St Vincent and the Grenadines organized by the YRM and SVG First Responders did a three week rotation in Dominica. Operating from a rural district called Wesley, close to the main airport, our team among other things, repaired a generator at the Wesley Health Clinic as that was the only functioning clinic in that district. After one week without power, the clinic could not sterilize dressings, thus compromising the health of injured persons. They were all smiles when our team got the generator going and now able to nebulize patients with respiratory problems, and lights so they could function, day or night.
Our team assisted with damage assessment, cleared over a mile of road from Wesley to the airport to allow vehicles bringing relief supplies unhindered access, with nurses, doctors, and other professionals all joining hands to clear the main road. The communications team also coordinated the arrival of medical supplies, food supplies and the arrival of a team of medical doctors who went to do a rapid assessment of the country's medical needs. That evaluation revealed that over 70% of the population, including their Prime Minister was traumatized by the intensity and destruction caused by 'Maria'.
Part of our training also involves operating from remote locations, so this year, part of the YRM team camped on the beach at Bachelors Hall in Canouan, where a multi band, multi mode HF/VHF transceiver operated from a 12 volt battery and, using a broad band rapid deployment dipole antenna received from Barrett communications, was used with excellent results. Besides making contact with local radio operators, which was the principal objective of the exercise, contacts were made with Canada, St. Kitts, Barbados, St. Lucia, Trinidad, Carriacou, Jamaica, Grenada, Union Island and Guyana.
Operating from the Communications Command Center was Sean Patterson J88CU; with assistance from J88LE Leslie Edwards; J88EA Ronald Haynes; J88DX Cally Gibson; J88NMB Monte Browne; J88DT Sylvester Tannis; J88DM Reni King; J88NFJ Leon Ambris; and our most senior radio operator J88AA Martin Barnard. YRM Director J88CD Donald De Riggs, operated from the remote station on the beach in Canouan ably assisted by J88NIR Ian Rhynd. While in Canouan, the YRM also provided safety communications services for the maritime activities during the weekend regatta.
Other activities planned for the rest of the year include several Parks On The Air (POTA) activities which allows our members to demonstrate to the public how to set up and operate a remote/portable station, while giving them the opportunity to communicate with similar operations stationed at other local recreational parks. The general public will be notified when the dates for these activities have been confirmed.
The RRL/YRM also uses this opportunity to thank MV Guidance and GemStar for transporting the radio equipment to and from Canouan, as well as all volunteers who made the activity the success it turned out to be, including the five secondary school students who assisted the YRM Director in setting up antennas and tent.
The YRM also uses this opportunity to appeal to all Vincentians to prune trees that can break off and cause damage during violent storms, as well as securing any loose galvanize with roofing screws, and repair any damaged windows, doors, gates; clearing waterways and drains around your property, anything that can lessen the impact of a hurricane. Follow advice and bulletins issued by NEMO who will also be publishing an updated list of all the emergency shelters in the state. Thursday, June 1, marked the official start to the 2023 Atlantic Hurricane season.