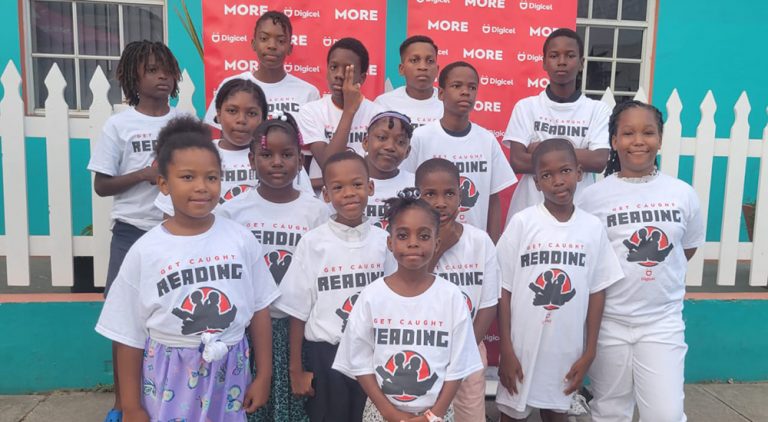 Press Release
May 30, 2023
Students in Union Island engage in Digicel reading initiative
Some 15 students were engaged in a recent reading initiative in which telecommunications provider Digicel, partnered with the Union Island Community Group. The session was aimed at promoting literacy and reading and was held under the theme, "Reading is power. Get caught reading".
A Digicel release states that the activity was "geared towards bridging the reading gap between primary and secondary school levels among the students across the island," and it "solidified Digicel SVG's 20-year relationship with the Union Island community and its commitment to continue ensuring that all Vincentians are afforded opportunities to receive a quality education".
Digital services executive at Digicel SVG, Akeil Matthews said, "Working with the Union Island Community Group on this programme was a great experience. At Digicel,we believe in creating a world where no one gets left behind, whether that's by bridging the digital divide and keeping people connected to the things that matter, or by supporting local initiatives like this one to
promote literacy across the country".
The 15 children who attended the session were drawn from the Mary Hutchinson Primary School, the Stephanie Browne Primary School and the Union Island Secondary School. The release adds that the community also showed its support with key persons, including the Southern Grenadines Parliamentary Representative, Terrance Ollivierre,
Stanford Coy, Valcina Noel and Anita Regis, turning out to participate as readers. After the readings, persons in the audience were asked questions and prizes were given to those who answered correctly.
"Digicel SVG is committed to advancing the lives of the students in Union Island and facilitating the process of helping them to broaden their imagination, ignite the embers of their creativity and innovate and transform their world into a place of infinite possibilities," Matthews added. "We are proud to support this and other projects that will have a lasting impact on our Vincentian folk."