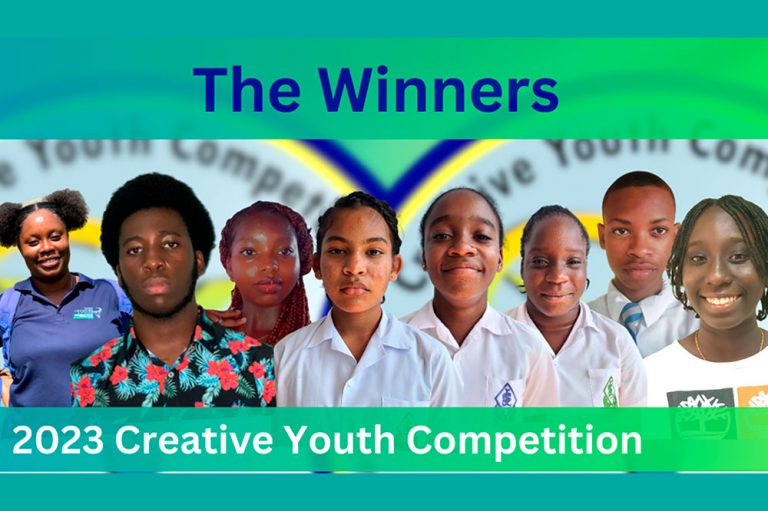 Press Release
May 12, 2023
St Joseph's Convent trio wins 2023 ECCB/RSS-ARU Songwriting Competition
A three member team from the St Joseph's Convent School, Kingstown, emerged in the number one position in a song competition organised by the Eastern Caribbean Central Bank (ECCB).
Hannah Archibald, Lonya Bullock and Keosha Burke captured the first place in the 13-16 years age group of the competition that was open to students from ECCB member states and territories.
A release from the Bank states that students from four member countries captured the top positions in the 2023 ECCB/RSS-ARU Creative Youth Songwriting Competition.
The ECCB collaborated with the Regional Security System Asset Recovery Unit (RSS-ARU) to launch the Creative Youth Competition (CYC) in September 2018 which is open to students of the eight ECCB member countries ages 13 to 19.
The 2023 competition focused on songwriting, and required students to compose and produce songs on one of three topics: (i) Social Media Influencing Our Behaviour; (ii) Re- arrange to Address Climate Change; and (iii) Making Food Security our Priority.
The Convent School trio topped the 13 – 16 age category, with Samuel Roberts of the Grenada Seventh Day Adventist Comprehensive School in second place.
These winners composed their songs on the topic: Social Media.
Faith Gibson of the Antigua Girls High School placed third with her composition on Climate change.
Tawafa Pierre of the T A Marryshow Community College in Grenada copped the first place in the 17 – 19 age category, followed by Renee Smith of the Sir Arthur Lewis Community College in Saint Lucia in second place, and Denisha Mitchell of the T A Marryshow Community College, placing third.
All winners in this category composed their songs on the topic: Social Media Influencing Our Behaviour.
Seasoned artistes from ECCB member countries had the task of selecting the top entries in the two categories. The judges for the 13-16 category were: Kirk Anderson of Antigua and Barbuda, Marlon Marie of the Commonwealth of Dominica, Elwyn Mc Quilkin of Grenada, and Kibbianne Willett of Saint Christopher (St Kitts) and Nevis.
The judges for the 17 – 19 category were: Hance John of Saint Vincent and the Grenadines, Bernard Wattley of Anguilla, and Herman Francis of Montserrat. The judges said the task was not easy because all of the students demonstrated exceptional talent.
Governor of the ECCB, Timothy N. J. Antoine highly praised and commended all the participants and winners, noting that the performing arts is an avenue for young people to add their voices to the issues that confront them within the region.
Programme co-ordinator for the RSS-ARU, Debra Wilkinson, said programmes such as the CYC encourage youth to channel their energies into positive and creative directions and provide springboards for entrepreneurial development.
Winners of the Creative Youth Competition, along with their schools and mentor teachers will receive monetary prizes at an official prize-giving ceremony later this year.
Further information on the results of the competition as well as the winning entries can be accessed on the ECCB Facebook page and YouTube channel.