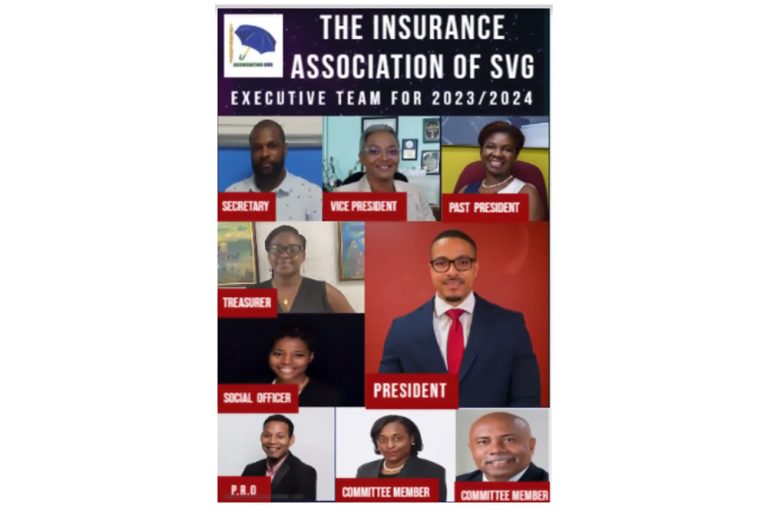 Press Release
May 5, 2023
Insurance Association has new executive
`The Insurance Association of St. Vincent and the Grenadines (SVG) elected a new executive at its annual general meeting on April, 26.
A release from the association said the new president is Joel Garrett, who is supported by Desra Robinson-Glasgow as vice president.
"The new team's first order of business is to build on the success of the previous years and continue to drive the growth and development of the insurance industry in SVG," the release states.
"This includes addressing the needs of the younger generation who are the future of the industry with a focus on implementing innovative programmes and initiatives that will attract and retain younger members while still meeting the needs of the seasoned generation."
Garrett and vice president Robinson-Glasgow will receive support in this thrust by re-elected secretary Jeremy Charles, treasurer Hannah Laidlow, social secretary Rudisha McTair-Peters, and committee members in Neka Anthony and Cecil McKie (re-elected), as well as past president Villette Browne and PRO Jahdake Soleyn.
The association described its meeting as "an exciting and energizing event for all attendees", noting that "the new executives were appointed with a clear mandate to continue the Association's journey of growth and development, and the roadmap they presented was both visionary and pragmatic".
It added that the discussions "were focused on the future of the insurance industry in SVG, and how the Association can meet the changing needs of both the younger and the more seasoned generation."