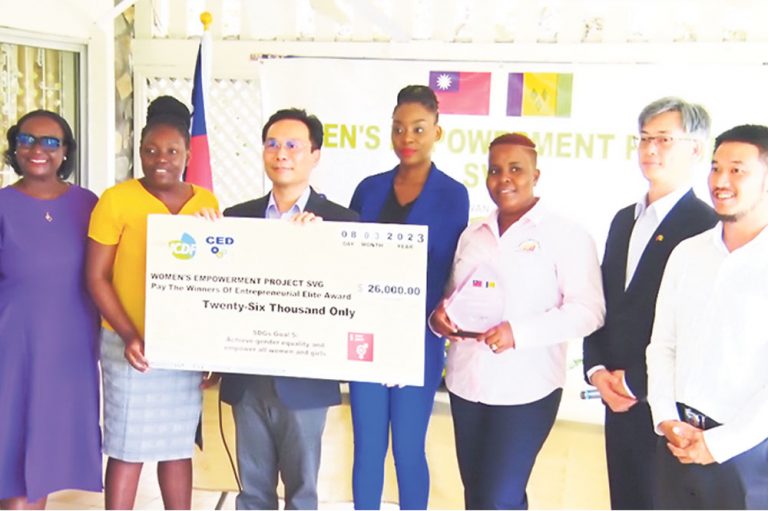 Press Release
March 17, 2023
Three emerge winners from last cohort of Women's Empowerment Project
Three entrepreneurs, Glendris Holder-Caine (Leb'elle Foot and Nail Care), Affisha Clarke (Teric's Poultry and Meats) and Noddie Snagg (Casa de Snagg) were the winners selected from the Women's Empowerment Project (WEP) Business Plan competition on Friday, February 17.
Each received a prize of $26,000.
At the prize giving ceremony held on Tuesday, March 7 at the Embassy of the Republic of China (Taiwan), which financed the project, ambassador to St. Vincent and the Grenadines (SVG), Peter Sha Li-Lan said the WEP initiative was introduced to empower female entrepreneurs. The ambassador described the WEP as an "economic empowerment package".
Project coordinator/training and education coordinator at the Centre for Enterprise Development (CED), Keisha Phillips explained that the WEP initiative commenced in 2021 as a way of assisting women affected by the COVID-19 pandemic. She added that it was not only used as an aiding tool, but as a means of building capacity in order to advance the entrepreneurial skills of the participating women.
The project coordinator thanked the government of Taiwan for their continuing support.
One hundred female entrepreneurs have participated in the Women's Empowerment Project so far. The third cohort was completed on Saturday, December 31, 2022. (API)