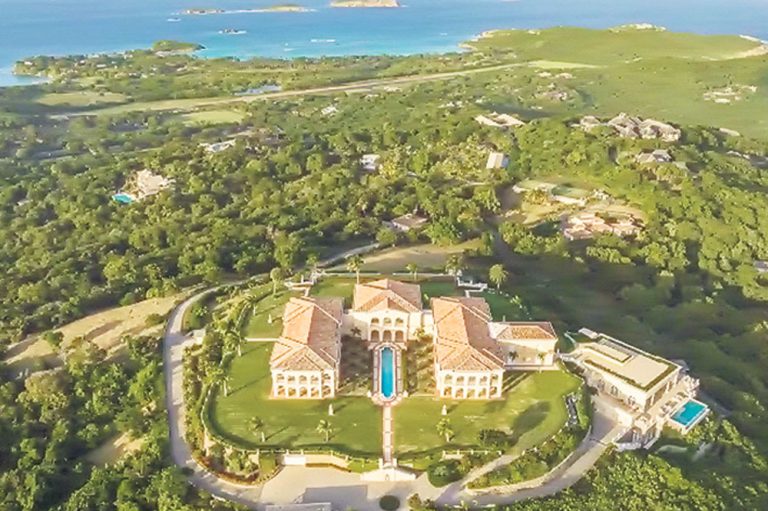 Press Release
February 24, 2023
Most expensive home in the Caribbean just listed at $200 million
A palatial estate on Mustique was listed for a whopping $200 million Sunday evening, making it the most expensive home to ever hit the market in the region and one of the priciest homes for sale in the entire world.
The Terraces, as the estate is called, spans 17 acres and nine structures.
"The Terraces in Mustique is the most expensive single residential home to publicly come to the open market in the Caribbean region," said Edward de Mallet Morgan, head of international super-prime sales at Knight Frank, who represents the mega-listing.
The estate sits atop Endeavor Hill, one of Mustique's highest summits.
The majestic residence commands one of Mustique's highest elevations, overlooking landscaped gardens and wild tropical grounds with panoramic views over the Atlantic and Caribbean coastlines. The estate's 41-page marketing brochure boasts nine ensuite bedrooms in the main house, an 80-foot-long swimming pool and "the largest entertaining space on the entire island."
"Mustique is an island where incredibly high profile people go for incredibly low profile holidays," said de Mallet Morgan, who declined to disclose the identity of the seller.
Mustique has a storied past. In 1958, Lord Glenconner, Colin Tennant, bought the entire island, which at the time had no roads and no running water, for £45,000. That's about $1.2 million in today's money, when adjusted for inflation. Tennant gifted a plot to his friend Princess Margaret, who built a villa there and helped spark a rush of rich and famous buyers who followed the royal and built their own homes, according to the island's website.
Decades later, it's still an exclusive playground for titans of industry and rock stars. Tommy Hilfiger and Mick Jagger have homes on the isle. From its health clinic to security, the island is wholly managed by the Mustique Company, a private operation owned by the island's homeowners.
"Paparazzi are banned on Mustique, and the easy, relaxed interaction of royal families, rock stars, celebrities, business moguls and entrepreneurs is really unique to Mustique," said de Mallet Morgan.
De Mallet Morgan shared data with CNBC from Knight Frank's upcoming Wealth Report, which shows that out of 100 key city, sun and ski destinations around the world, Mustique was the 12th best performing market. The ranking puts the remote island on par with Sardinia, St. Bart's and Provence.
According to the report, luxury residential prices on Mustique rose by 12% in 2022, making the island the fifth best performing market in the Americas after Aspen, Miami, Bahamas and the Hamptons.
Ray Parisi (SUN).