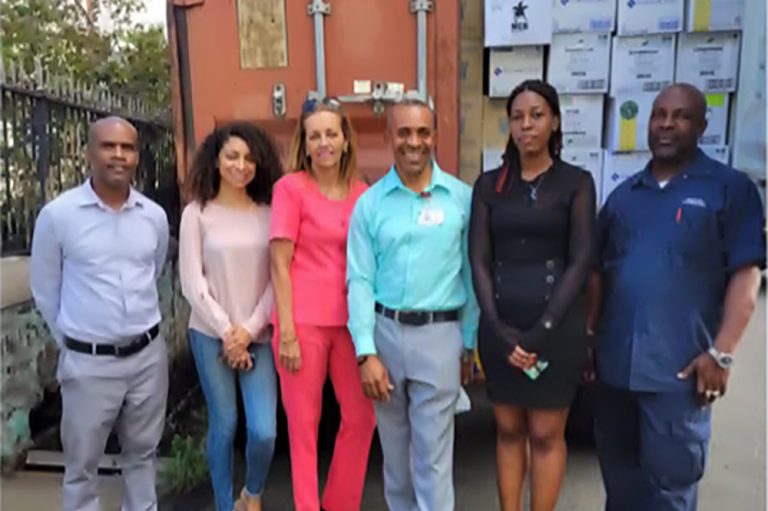 Press Release
February 10, 2023
Rotary Club South donates medical equipment and supplies for hospitals and clinics in SVG
THE MILTON Cato Memorial Hospital was the recipient last month of a second container stacked with medical equipment and supplies for use by hospitals and clinics in St. Vincent and the Grenadines (SVG). The first, container was handed over in March, 2022.
The equipment and supplies were donated by the Rotary Club South and a release from the organisation states that the containers are valued in excess of several hundred thousand US dollars.
"The Rotary Club of St.Vincent South is proud to have facilitated these donations for the country through their partnership with Rotary MESA (Medical Equipment and Supplies Abroad) out of Ohio, USA," the club's release states.
The first container contained critical equipment such as examination tables, medical cabinets, lighting, trolleys and mobility equipment such as wheelchairs, walkers, crutches, surgical lighting and chairs. The second container, which was handed over in January, 2023, contained more chairs, lighting, examination tables, surgical equipment, and large quantities of Personal Protective Equipment and supplies.
As always, the need for medical equipment/supplies is greatly appreciated by the Ministry of Health as the high demand for these items continues to be a priority at medical facilities here, the club points out.
The items were handed over in the presence of personnel from the Ministry of Health, including permanent secretary, Cuthbert Knight and deputy hospital administrator, Andrew Williams, while Rotary St.Vincent South was represented by Rotarians Shakeila Veira and Kim Haydock.
During the COVID-19 pandemic in 2020, the club said it was instrumental in outfitting the Isolation Unit with furniture, equipment and supplies in time for the control and management of the situation. The cost of that container was valued in excess of US$500 thousand.
Rotary Club of St.Vincent South says they intend to continue assisting with the procurement of vital and costly medical equipment through their partnership with Rotary MESA, who in turn continue to provide an outstanding medical supply service to the people of St.Vincent & the Grenadines.