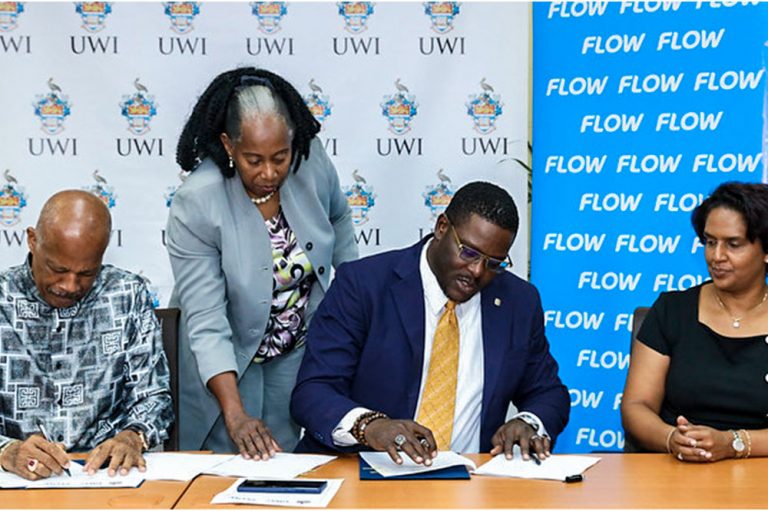 Press Release
February 10, 2023
FLOW renews commitment with UWItv
Leading Telecommunications and entertainment provider, Flow has signalled its continued commitment to stand with UWItv, the public education platform of The University of the West Indies (The UWI).
The two regional entities have deepened their partnership with an extension of a landmark industry- academic agreement.
In 2019, the agreement between the two spring boarded UWItv's evolution as a multi-dimensional and modern media service on Flow EVO channels across the Caribbean, a release from Flow states. The partnership enabled UWItv to successfully operate a dedicated cable channel – the only Caribbean education channel of its kind – that broadcasts to 16 territories across the Caribbean, transforming UWItv into a leading media entity delivering uniquely diverse UWI and Caribbean-focused programming to millions of viewers in the region.
A delegation from Flow Jamaica, including vice-president and general manager, Stephen Price; director of regulatory affairs, Charles Douglas; director of legal affairs, Sola Hines; and Regional director of entertainment networks and media operations, Michael Look Tong visited The UWI's Regional Headquarters on January 13.
The Flow team met with Vice-chancellor Professor Sir Hilary Beckles; university general counsel, Laleta Davis-Mattis and UWItv's managing director, Janet Caroo for a ceremonial signing, signalling its next phase of collaboration.
According to Vice-chancellor Beckles, "This valued relationship continues to help us to expand Phase II of The UWI Triple A Strategy, our Revenue Revolution, through the delivery of public education services across the Caribbean via UWItv. No university can prosper without partnership. This project has been transformative and helped us to revolutionise our performance."
Speaking at the ceremonial signing, Flow Jamaica's vice-president Stephen Price noted, "This partnership between UWItv and Flow for the distribution of content on our platforms is the continuation of this chapter in the story of structured evolution and revolution to perform. Flow has exclusive television broadcast rights through its agreement for the 24/7 high-definition linear channel, and all its programming.This means that UWItv will continue to be available to customers who have Flow's cable and IPTV service. Additionally, persons will be able to access UWItv online."