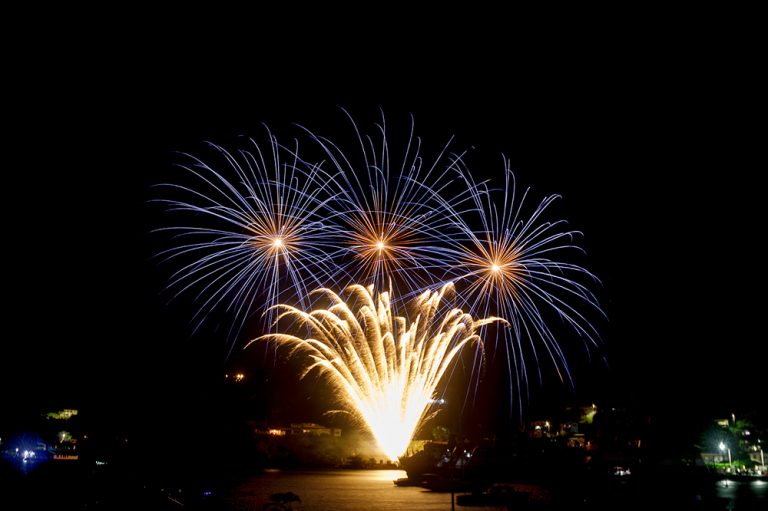 Press Release
January 13, 2023
Bequia celebrates New Year's Eve Fireworks after three year absence
AFTER A three-year hiatus due to the COVID-19 pandemic, thousands of residents of Bequia and elsewhere joined landbased and yacht-based visitors to celebrate the return of the island's world-famous NewYear's Eve Fireworks display.
In the countdown to midnight, with the harbour packed with visiting yachts, and every waterfront location in Admiralty Bay – bars, restaurants, beaches and walkways – and the streets of Port Elizabeth itself all crowded like never before, the crowds eagerly awaited the first explosion of fireworks into the night sky, the organisers said in a release.
The brainchild of the late Sir James Mitchell, this year's event was the first since his death in 2021. He was remembered in the closing moments of the display with three fireworks hearts, which rose high above Admiralty Bay and hung there for a few last seconds.
After a full 10 minutes of glorious spectacle acclaim for the show among spectators was universal.
"Totally awesome!", "Just amazing!", "Spectacular..!", were some of the delighted comments heard among the loud cheers, with widespread praise and gratitude expressed for the dedication and hard work of the organisers. The all-volunteer Bequia NewYears Eve Celebration Committee, now chaired by Sabrina Mitchell, is solely responsible for mounting the island's annual NewYears Eve event. As in previous years, Canadian pyro-technician, Fred Wade, CEO of suppliers Fireworks FX, was flown in specially to produce the show for the committee.
Speaking after the event, Mitchell declared: "Sir James would have been so proud that his beloved fireworks display on New Year's Eve was back once again – bigger and better than ever."
"The show was magical and created an atmosphere of extraordinary excitement in Bequia.The thrilling midnight experience shared by friends and strangers alike brought a special unity to our community, great joy to so many and, after the challenges of the last few years, hope for a wonderful 2023 season for all of Bequia." The organisers say funds for the event continue to be raised entirely through the generous contribution of private individuals, local businesses and well-wishers. These include the Embassy of the Republic of China (Taiwan). Full import concessions were granted by the Ministry of Finance, and permission to import and store the fireworks was granted by the Commissioner of Police. The committee has extended special thanks to the customs officers and members of the Royal St Vincent and the Grenadines Police Force (RSVGPF) in Bequia for their assistance in facilitating clearance and storage.