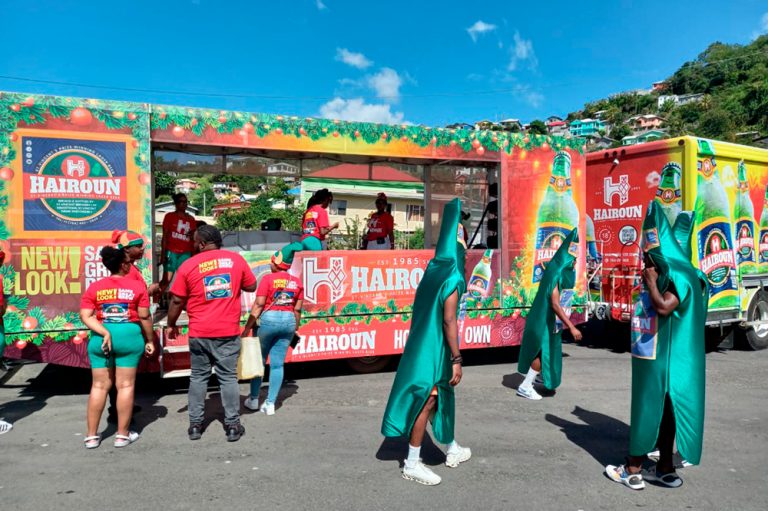 Press Release
January 6, 2023
SVG Brewery introduces new label with Hairoun Holiday Caravan
Members of staff of the St. Vincent Brewery Limited (SVBL) boarded the Hairoun Holiday Caravan on Saturday, December 17, 2022 to traversed from the Leeward to the Windward side of the mainland to introduce a new look for the award-winning Hairoun Beer to persons in the various communities.
A release from the St Vincent Brewery said the occasion was also intended to bring some holiday cheer and say "thank you" to Vincentians for their continued support of the various SVBL brands over the years.
The Hairoun Holiday Caravan made numerous stops along the way, including at Heritage Square in Kingstown, and was met by persons in the many communities who appreciated the gesture and tokens of appreciation, including free drinks and slices of ham, which were distributed by the Hairoun mascots, promo girls and the SVBL team.
The Caravan engaged members of the communities who participated in the dance challenges from the Hairoun Mascots and trivia games, where prizes were awarded as persons tried to identify the differences between the old and new labels.
The new label, framed in gold, celebrates the prize-winning superiority of the Hairoun brew and represents the passion behind Hairoun Beer- brewed by Vincentians for Vincentians, in the Gem of the Antilles, capturing our radiant Vincentian sunshine, the release from the SVBL states.
" It dives into our glistening, deep indigo Caribbean waters, and reflects the waves gently caressing the shores of our black sand beaches, with a pulsating rhythm that echoes through the hills of our lush emerald green vegetation," the release expresses.
"The new Logo encompasses the arch, a symbol of strength and support, a perfect representation of the city of Arches. It features the SVG Diamond formation perfectly blended with the hops and barley which gives Hairoun its distinctive notes, aromas and flavours; a crisp taste enjoyed from Fancy to the Grenadines".