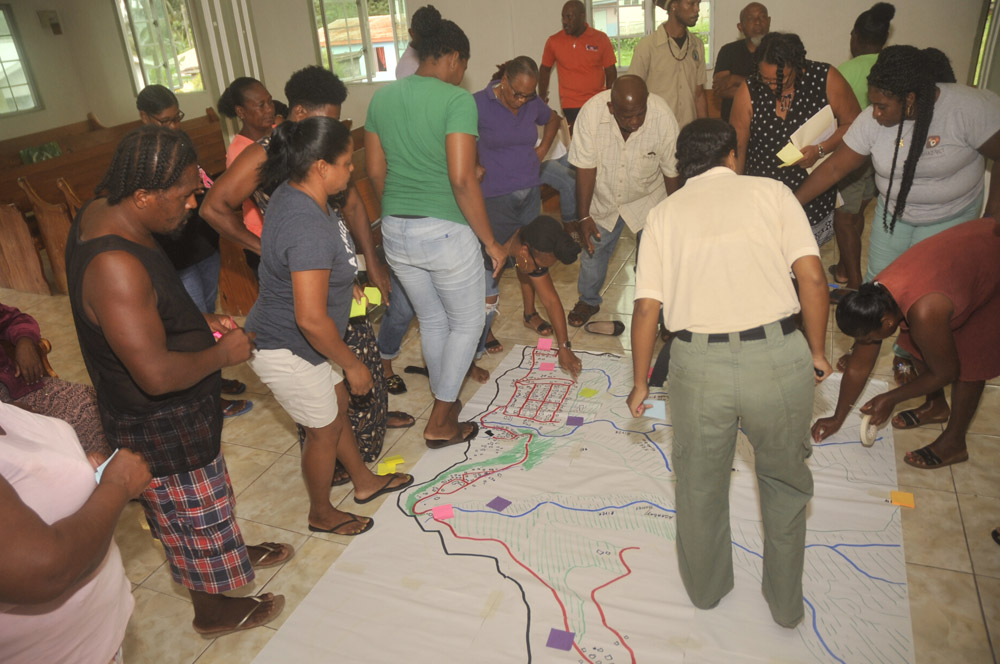 Press Release
November 27, 2022
Residents north of the Dry River better equipped for disaster after Climate Change workshop
Participants at a two-day workshop on climate change have expressed their satisfaction with the information imparted, and say they are now better equipped to prepare for and respond to impending disasters.
The workshop, which concluded on Thursday November 24, saw participation by residents from communities north of the Rabacca Dry River, a region prone to disasters.
The residents are confident that with the knowledge gained from the workshop, persons will not hesitate to act when they see the signs, and are given warnings about impending disasters.
On the first day of the workshop, Wednesday November 23, discussions surrounded the impact of climate change, what mitigating measures could be adopted to reduce the impact, and the role of residents and civil society groups in preparation for the onslaught of a hurricane, or in recent memory, an eruption of La Soufriere volcano.
The following day, participants were engaged in identifying and locating structures, correcting names of rivers and streams, and inputting the correct names not only of those of Garifuna origin,  but also the names given by residents.
The residents, using a large sketch map of the region from Pepper Village north to Sion Hill, made marks as to which areas would be hardest hit by deforestation, fire, volcanic eruptions, hurricanes, landslides and flood, earthquakes, tsunami, and the effect of invasive species on agricultural crops.
The two-day workshop, which was held at the Sandy Bay Seventh Day Adventist Church, was organized by the Barbados headquartered Caribbean Youth Environment Network (CYEN) and its Climate Justice Awareness drive among indigenous communities in the Caribbean.