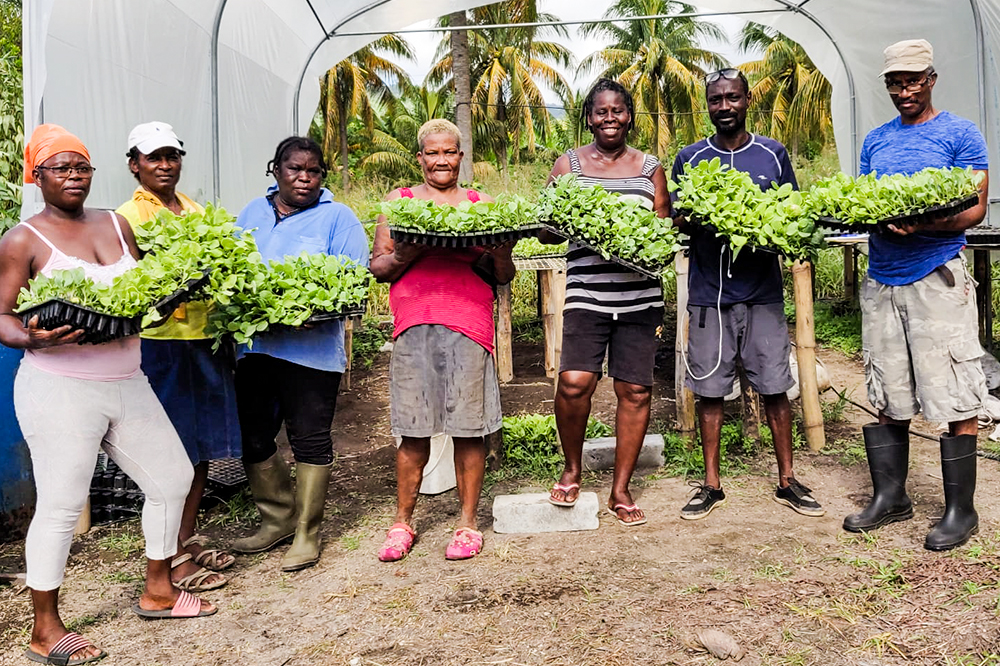 Press Release
October 21, 2022
Farmers get support to revive and expand vegetable production at Langley Park
FIFTEEN FARMERS FROM the Windward Irrigation Initiative Farmers' Cooperative last Saturday, October 15, 2022 began receiving seedlings from the cooperative nursery at Langley Park to commence a programme for vegetable production on their individual holdings.
The initiative is part of activities under a project titled, Capacity Building to Support Vegetable Production Recovery on Langley Park Farms, a point person with the initiative said in a release.
The project was conceptualized in the aftermath of the volcanic eruptions, its dislocation of residents of Langley Park, and decimation of agricultural production on the surrounding farms. This project has as its main objective to support the reintegration of 30 farm families into communities severely affected by the eruptions of La Soufriere Volcano and targets beneficiaries from two agricultural cooperatives – Women in Agriculture Langley Park (WALCO), and Windward Irrigation Initiative Cooperative (WIICORP).
The support was received under the Direct Aid Program (DAP), funded by the Government of Australia through its embassy in Trinidad and Tobago.
The project provides material and technical support for the revival and expansion of vegetable production on Langley Park. This includes the procurement and provision of seeds, fertilizers and other agrochemicals, tools and equipment, and two seedling production (nursery) facilities, one of which was received by each group.
The farmers of WIICOOP have established their shade house at Langley Park on the holding of one of the farmer and have engaged over the last several weeks in the setting of seedling for farmers to receive for a planned programme of vegetable production. This programme will allow for the participating farmers to receive seedlings at concessionary prices from the nursery to grow their crops and to arrange for coordinated marketing of some commodities.
The project is a collaborative effort with the Inter- American Institute for Cooperation on Agriculture (IICA); the Ministry of Agriculture, Forestry, Fisheries, Rural Transformation, Industry and Labour; and the beneficiary cooperatives.