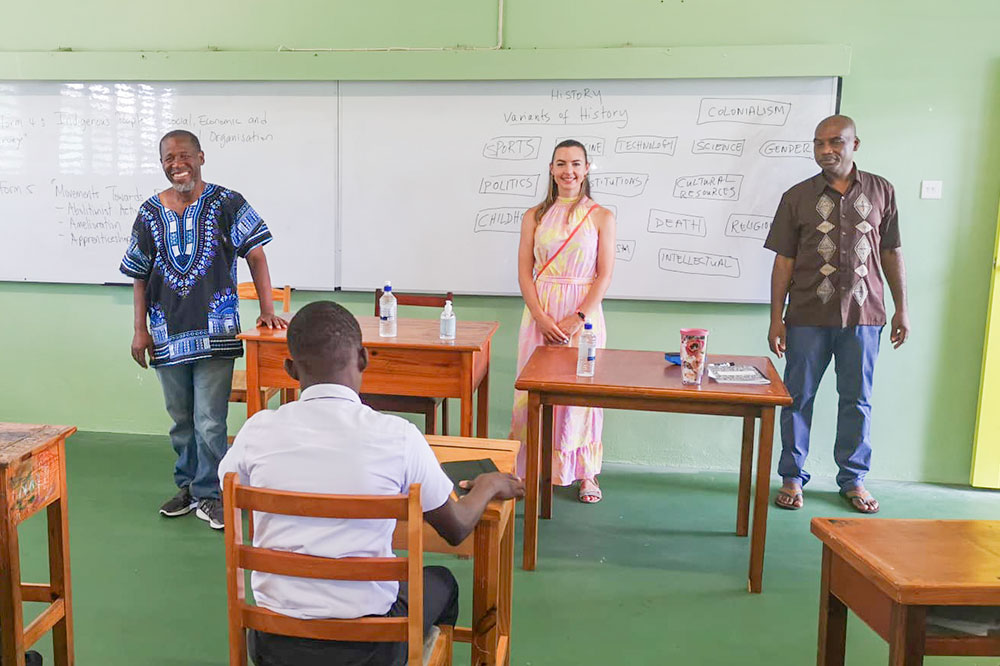 Press Release
October 4, 2022
Academics visit Grammar School as part of the school's 114th anniversary celebrations
AS THE St Vincent Grammar School (SVGS) continued activities to mark its 114th anniversary,on Wednesday, the institution welcomed a group of outstanding academics among whom were two past students.
Dr Garrie Michael Dennie and Dr Cleve Scott, both historians, spoke to fourth and fifth form students about the importance of history and discussed with them examples of Vincentian history related to the Caribbean Secondary Education Certificate (CSEC) syllabus, a release states.
The two historians were accompanied to the school by Dr Grace Carrington, a research fellow at University College London. Dr. Carrington is in St Vincent and the Grenadines looking at republicanism and the impact of the late Queen Elizabeth II.
Fourth form Geography students also heard a presentation given by Rohit Rao, a doctoral candidate in Race and Education (Department of Sociology) at the University of Glasgow, Scotland and a former geography teacher in the United Kingdom.
He spoke to students on career opportunities in the field of geography and the role of the geographer in the face of climate change in small island developing states.
The visitors were hosted by history teachers at the school Afi Martin, Taniel James, Randy Boucher and Gary Thomas.
Headmaster, Hugh Colin Sam expressed his appreciation for the opportunity for his students to hear first-hand from experts on opportunities in their respective fields, especially at a time when the school is marking such an important milestone.
On Monday, September 26, the St Vincent Grammar School held a thanksgiving service at the Kingstown
Methodist Church after which the students, staff and well-wishers marched to the school at Richmond Hill.