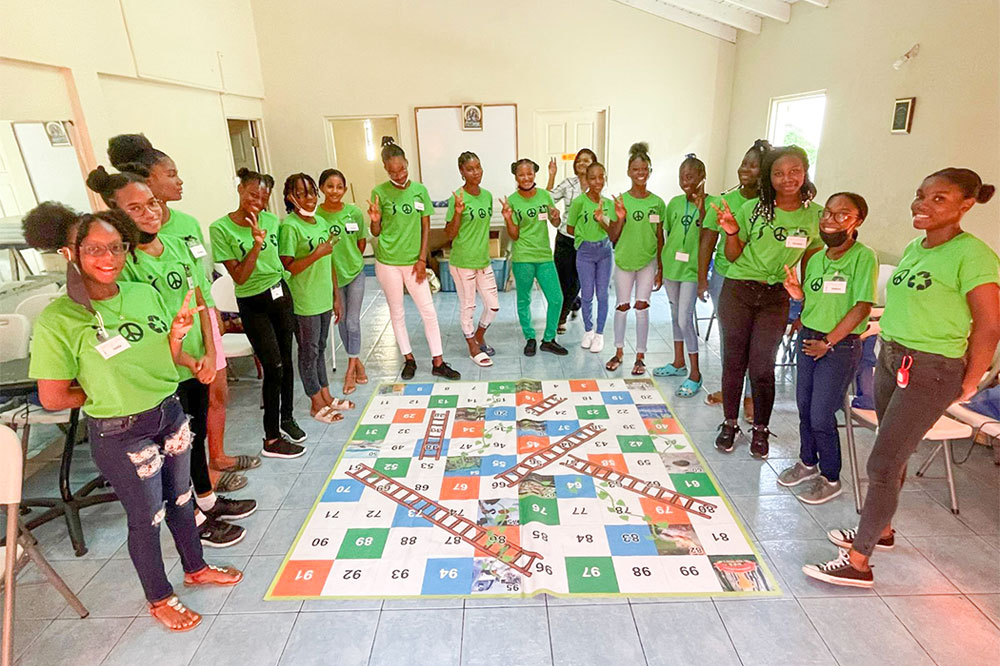 News, Press Release
August 19, 2022
Soroptimist International SVG hosts 'Girls on Fire 2022' programme
Soroptimist International SVG hosted the 'Girls on Fire 2022' programme for five days beginning July 25 under the theme – "My Voice, Our Equal Future".
The program, which was organised by the Programme Action (PAC) committee under the chairmanship of Shannon Durrant – Samuel, involved 16 young women and sought to build their confidence and communication skills.
Janeil Henry-Rose, Secretary General UNESCO, who was the guest speaker on the first day, encouraged the girls to find their voice and be motivated to be leaders.
Also on Day One, Gloria Williams of the Executive of Toastmasters club engaged the girls with a vibrant and interactive public speaking session followed by a session on Confidence Building with Raedawn Howard,Wellness Advocate and Yoga instructor.
A visit to the Akers farm owned and operated by Dennis Ambrose was on the agenda for Day Two. There, the girls saw a historical Great House, farm animals and picturesque scenic views of the island.
Later that day there was an interactive discussion led by PAC chairman Shannon Durrant – Samuel on Healthy Eating followed by Raedawn Howard, who engaged them on the topic of mindfulness and also incorporated an invigorating session of standing yoga and positive affirmations.
By Day Three young women were bonding and letting their voices be heard in their session with Tyshana Thomas-Nichols from the Sustainable Development Unit on Climate Change and the Importance of Recycling. The rest of the day was spent on the beautification project at the
National Public Library planting flowers, painting used tires to accent the plants and our existing Soroptimist picnic bench.
Day Four touched on the topic of Healthy Relationships presented by Degra Michael of National Reconciliation unit at the Ministry of Education, The Law and Domestic Abuse by Moreeze Franklyn a Barrister, President of the Broad St. Vincent Planned Parenthood and Social Affairs Development Specialist Makini Barrow.
Later in the day the girls were taught the 'Bachata' dance by Cuthbert Tucker from Latin Fusion 784 Dance Group.
Girls on Fire 2022 culminated with a Public Speaking session led by Jacqui English-Jacobs from Toastmasters with an informative debate and impromptu presentations from the young women.
A Mental Health and Self Confidence Boost presentation from Ellica Matthews, Counsellor at Mental Health Rehabilitation Centre brought the programme session to an end.
The 16 young women received certificates and prizes at the end of this exciting week of activities.
"Through these activities the young ladies were able to build their confidence, communication skills and we are hopeful that as Soroptimists women we were able to plant seeds in these young ladies as they grow and blossom into empowered women," a release from the Soroptimists said.