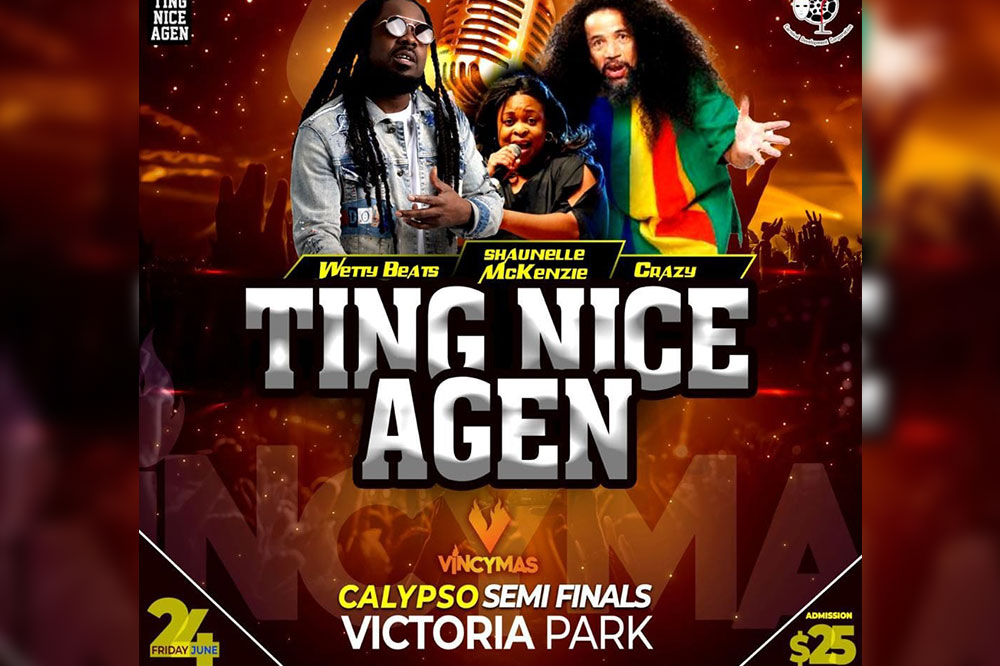 Press Release
June 24, 2022
22 Calypsonians clash at tonight's semi-finals
The first Vincymas 2022 show kicks off tonight in carnival city, Victoria Park, where 22 calypso semi-finalists will perform in hopes of securing one of 11 spots in the finals on July 3.
This year's semi-finalists, which were announced last week after several nights of preliminaries, were chosen from three calypso tents.
Semifinalists from the Graduates Calypso Tent are: Glenroy 'Sulle' Caesar; Maxwell 'Tajoe' Francis; Kingsley 'Hero' Roberts; Cleopatra 'Cleopatra' Hendrickson; Koskinski 'Busta Ski' Adams; Damian 'Boney Man' Noel; Glenroy 'Homey' Delpesche and Phylcias 'Nubian Empress' Alexander.
Six calypsonians were selected from the On Tour Calypso Tent: Elvis 'Abijah' Abby; Marvo Morgan; Robert 'Patches' King; Derrick 'Man Sick' Alexander; Grantley 'Ipa' Constance and Alvin 'Zion-I' Dennie.
And the semifinalists from the Upstage Calypso Tent this year are: Fitzroy 'Bro Ebony' Joseph; Gosnel 'GC' Cupid; Joanna 'Nubian Princess' Christopher; Shena Collis; Alpheus 'Observer' Duncan; Omani Cupid, Kristian 'Lil Kris' Christopher; and Cecile 'Lil Bit' Murray.
Godwin 'Gao' Oliver and Malcolm 'Marshie' Marshall have been listed as reserves.
The event, dubbed 'Ting Nice Again' kicks off at 8:00 p.m, and will include performances from reigning Calypso Monarch, Shaunelle McKenzie and Trinidadian calypsonian, Edwin 'Crazy' Ayoung.
The headline act for tonight's show is Phillip "Wetty Beatz" Bastien, a Vincentian producer and artiste based in Paris, France.
Wetty Beatz's 2021 hit song, 'Ting go nice again' inspired the CDC's tagline for this year's Vincymas.
CDC's Shows Coordinator, Anthony Dennie said at a recent press conference that the Union Island-born musician agreed to have his song used to promote the 2022 festival.
Dennie also encouraged persons to attend the first official event on the calendar for Vincymas, which is expected to run from today, June 24 to July 5.