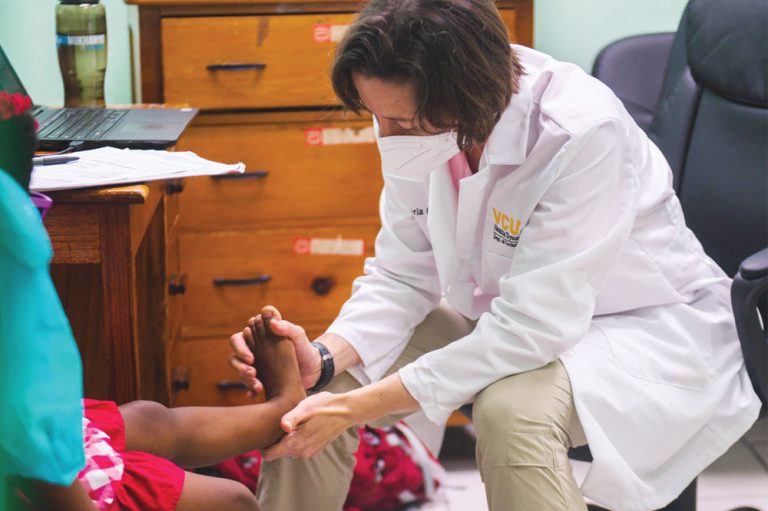 Press Release
May 6, 2022
WPP Scoliosis team wraps up first mission to SVG since COVID-19
An Orthopaedic team from the World Paediatric Project (WPP) is due to leave St Vincent and the Grenadines (SVG) on Saturday, April 30 after wrapping a series of surgeries for children with scoliosis and spine related problems.
A release from the local co-ordinators said the WPP's Scoliosis mission started on Sunday, April 24 and a total of 66 children were seen at the Outpatient Clinic of the Milton Cato Memorial Hospital (MCMH).
Of this total, eight children including five regional families from Antigua, Barbados and Dominica were assessed to undergo complex scoliosis surgeries which ended on April 28.
Lead Orthopaedic Surgeon and head of the mission, Dr. Victoria Kuester said they have seen some cases of expanded curves which are complex but pointed out that this is exactly why the team is here to offer their best effort and assistance. Dr. Kuester is accompanied by a comprehensive team inclusive of orthopaedic surgeon, Dr. James Bennett and anaesthesiologist Dr. Esra Elsaigh. Other auxiliary team members included two OR Nurses, Debbie Walton and Kelly Haze; WPP representative Harper Lorencki and Neuro-monitoring specialist, Bishara Kebbe.
This mission is being sponsored by NuVasive Spine Foundation and was represented by Operations manager, Taylor Hendricks and Instrument Representative, Douglass Karczewski.
This team has not been to SVG since the onset of the COVID-19 pandemic; and it's the WPP's third for the year following visits by a General surgery team in January and General Orthopaedics earlier in April.
As part of the mission, the WPP is continuing to mobilise diagnostic and surgical teams to heal children who lack access to special paediatric care through its network of partner hospitals locally, regionally and internationally.
The WPP said it remains grateful to the media "for their continued support in highlighting the work being done to aid our children and improve their quality of life".