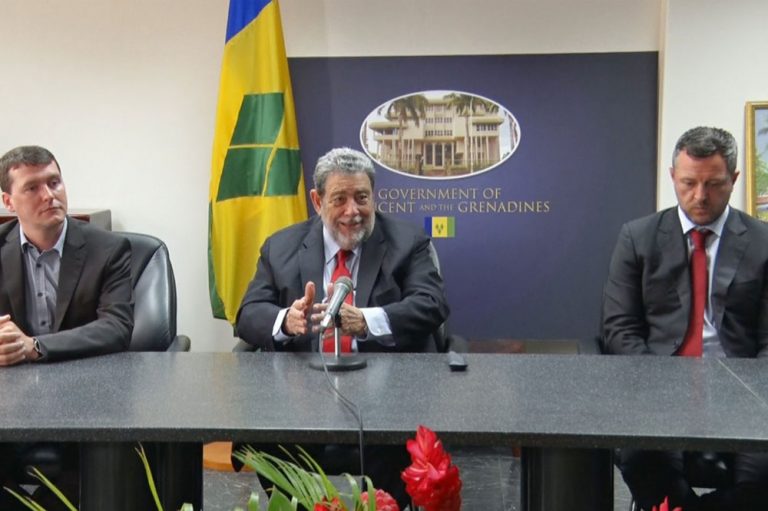 Press Release
May 6, 2022
Port Modernisation Project moves to construction phase
Prime Minister, Dr Ralph Gonsalves has signalled the beginning of the construction phase of the Port Modernisation Project in Kingstown, with a signed agreement between the government of St. Vincent and the Grenadines (SVG), Sellhorn Engineering based in Germany, and Aecon Construction Group Inc.
The signing ceremony was held at Cabinet room on Tuesday, May 4. Permanent secretary in the Ministry of Urban Development and Seaports, Yvette Pompey signed on behalf of the government of St. Vincent and the Grenadines, a release from the Agency for Public Information (API) states.
Speaking at the signing ceremony, the prime minister said, "This, modern port is vital for the development of this country." He added that, "the Kingstown Port is about 60 years old and is crumbling, and falling apart." He drew reference to the Container Port at Campden Park that was built in the early 1990's; noting that its small size presents a range of issues but stressed that it constitutes 80 percent of the container traffic. The prime minister further outlined the need for a modern port and said, "we are a trading country and Small Island Developing State," and, "this is necessary for imports and exports."
Gonsalves thanked the British Government for its grant of $35 million, the Caribbean Development Bank for their development loan of approximately US$110 million; and the Exim Bank and the Republic of China (Taiwan) to complete the financing.
He said the Port Modernisation project is in tandem with the quest to build "a modern, competitive, many sided, postcolonial economy that is national, regional and global."
And emphasised that this phase of development did not take place overnight but after many preliminary studies and managing social concerns, through the construction of over 40 houses at Lowmans Leeward for residents from Rose Place, among other initiatives.
Managing Director of Sellhorn Engineering, Norbert Peetz said he was elated upon being selected to continue onto the next phase of the Port Modernisation Project, since they have been working on the project from early 2018. Peetz said that despite the challenges such as the eruption of La Soufriere volcano, the work has forged ahead and this will play a major role in developing the infrastructure and improving the importation and exportation of goods here.
Director of Aecon Construction Group Inc., Conor Smyth reiterated the importance of the project and conveyed his gratitude for the award. Smyth highlighted that relationships have already been formed with the Port Authority team and said he looks forward to continuing these bonds while completing the project in May 2025.