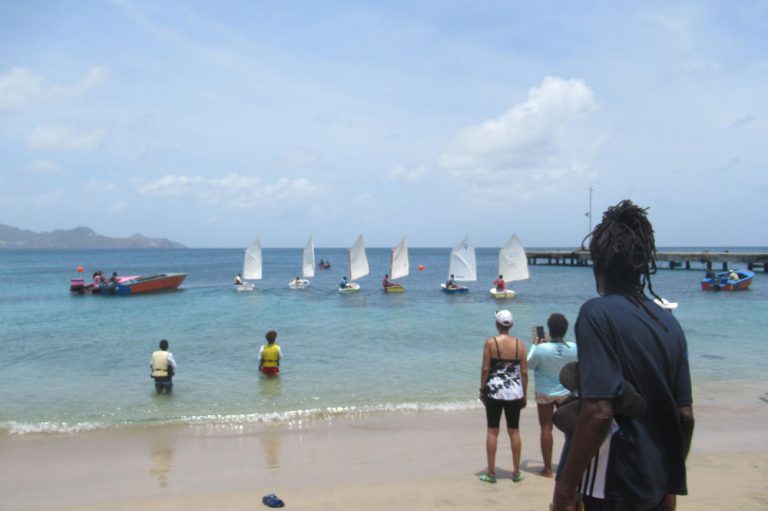 Press Release
May 3, 2022
Young sailors excel at post-COVID Regatta
A group of young sailors from the Southern Grenadines has been awarded for their skills in the art form, after taking part in the 2022 Mayreau Junior Sailors' Regatta.
The events took place over a two-day period at Saline Bay, Mayreau and featured a number of activities.
"With COVID gathering restrictions recently lifted, the Mayreau Junior Sailors were anxious to continue their development by competing against young sailors from other islands. They knew the traditional Mayreau Regatta wouldn't happen this year and when they learned the second week in April that the Bequia Easter Regatta was unable to include classes for youth, they quickly transformed their disappointment into determination to host their own Junior Sailors' Regatta," a media release said.
The release, dated May 3, noted that the "feisty youth" of Mayreau was able to pull off the first post-COVID regatta with the support of their coaches, other adult volunteers, sponsors, sailors from Canouan and Union island and many spectators.
The young sailors competed in Optimist boats (locally called box boats), Laser/Sunfish, Hobie Cat and 14-foot traditional double-ender working boats.
In the Optimist category, 12-year-old Azeem Forde of Mayreau placed first out of 11 sailors in this class.
Two other sailors from Mayreau: Jeremiah Forde, 12 and Kenny Jr Forde, 14 placed second and third respectively.
The Best Sportsmanship award in this category was given to 12-year-old Jeremiah Forde.
Only two boats competed in the Sunfish/Laser class.
Norfrick Baptiste, 17, was awarded first place, along with the Best Sportsmanship award in this category while Leon France, who is also 17 years old, placed second.
Two boats also competed in the Hobie Cat class, with first place going to 22 year old Stephon Forde of Mayreau. He was also awarded the Best Sportsmanship award.
Deshawn Grant of Mayreau placed second.
Five boats participated in the 14' Double-ender Working Boat class.
D Shark (Canouan) with Captain Hudson Williams, Ruben DeRoche and Amos Snagg won first place, while Corona (Mayreau) with Captain Adolphus Forde, Samarah Forde and Eric Alexander; and God's Angel (Mayreau) with Captain Samuel Cupid, Helen Forde and Alvin Forde placed second and third respectively.
The Best Sportsmanship award was awarded to 19-year-old Alicia Lewis of Mayreau.
The Regatta also included a full day of on-shore activities on Monday, May 2 with events including bobbing for apples, balloon blowing, egg and spoon races, donut on a string, soft-drink drinking competitions, limbo, needle and thread races, tug-of-war, ring toss, sack races, fill a bucket with a basket, three-legged races, dumpling eating contests and musical chairs.
"The Mayreau Junior Sailors gratefully acknowledge all the sailors from other islands who travelled to Mayreau to make this event special, all those who turned up to watch the action and, of course, all the sponsors who so enthusiastically accepted the opportunity to be associated with such a positive event: MountainTop Springs Ltd., Al & Amy Taylor, Nancy & Lorne Saul-Demers, DView, KFC, FLOW, SVG Tourism Authority, Wind and Sea Ltd., Tobago Cays Marine Park, Palm Island; Meghan Bennett, Sam & Max Bennett-Glass, CK Greaves & Co. & Sunrise Bakery, Dave Schiever of SV Half Baked, AA&M Wholesale, Nadi's, Union Island Easterval Committee and Mama Jean's," the release said.