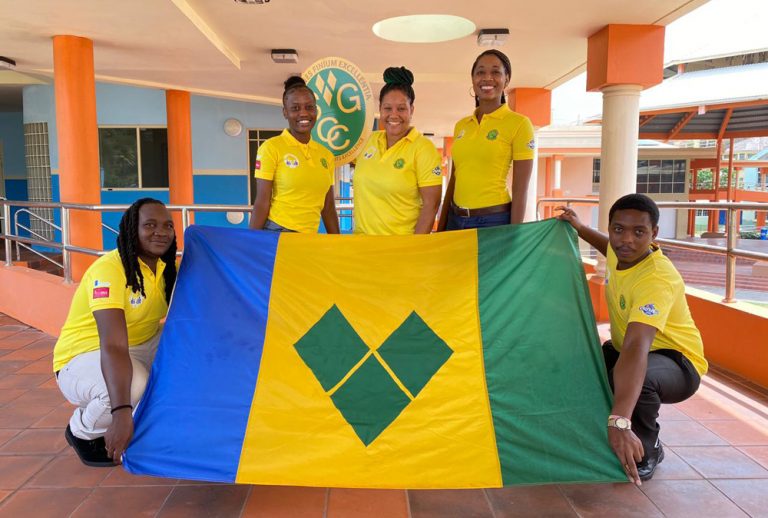 Press Release
April 30, 2022
SVGCC retains Windward Islands debate title
The St. Vincent and the Grenadines Community College (SVGCC) has been returned as champions of the Windward Islands Debating Competition (WIDC), making it two consecutive titles for the institution.
The SVGCC defeated Dominica State College 672 – 649 in Friday's final. The college's Marika Baptiste and Niesha Richards acted as the proposition for the moot "Countries have a right to impose vaccine mandates to protect the health of their populations". 
The SVGCC ended their 2022 WIDC campaign with a total of six awards: Preliminary Round 2 winner, Best Speaker: Preliminary Two – Junior Primus, Best Speaker: Finals – Niesha Richards, Best Speaker Overall – Niesha Richards, the Caribbean Centre for Development Administration (CARICAD) Team Excellence award which they also won two consecutive times, and the overall competition winner.
The SVGCC argued that vaccine mandates have long existed and are not new, that they are implemented in the greater interest of the people, assist in reducing infection transmission, preserve future generations and are a last resort when all other measures have failed.
Junior Primus, commenting on his experience, said it was a very memorable and enjoyable one. Primus continued "The immediate days ahead of the competition were very intense, but the coaches made it easier by showing an extraordinary level of dedication, persistence and leadership." Fellow debater Shadyn McLean, following the debate implored individuals to "engage in experiences of these types as they help to foster growth, particularly in presentation and critical thinking skills". 
From the coaches' perspective, recently appointed Assistant Coach Utamu Rose stated "It's been a great experience working with these dedicated and talented students who represent the future movers and shakers of our society".
Tedra Kirby, Communications & Marketing Manager & Debate Head Coach at the SVGCC in offering her feedback on their team's performance this year stated that the WIDC 2022 presented new challenges for them which forced them to continuously adapt. She explained "Because of the initial two-month postponement of the 2022 competition all of our debaters were caught in the middle of exams season, with our debaters having exams and assessments the week of, and even day of competition, so we kept having to meet at late hours, rearrange speech prep days, tag team between coaches to research, review and edit information because while the competition was important to us, their exams were first priority and this is a process that spans months."
The WIDC will return to St. Vincent & the Grenadines in 2023 when the SVGCC assumes hosting duties for the second time in the competition's history. The institution's participation in this year's debate was possible through assistance from its corporate partners Gaymes Book Centre, Courts St. Vincent Ltd, Beachcombers Hotel and The Cell Ltd.